Blatter confirms decision to award 2018 World Cup to Russia will be investigated
Sunday, November 27th 2011 - 00:57 UTC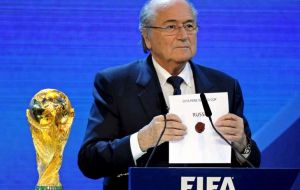 FIFA president Sepp Blatter has confirmed that the decision to award the 2018 World Cup to Russia will undergo an investigation. Qatar was awarded the 2022 tournament at the same time as the eastern European country, amid allegations that the Asian nation had influenced the decision-making process through the use of bribery.
Questions surrounding Russia's victory have been few and far between, but the Swiss executive has confirmed that an enquiry will be conducted.
"At the moment we're working with renowned experts like Sylvia Schenk from Transparency International and the Basel-based anti-corruption expert Professor Marc Pieth," Blatter, 75, told 'Frankfurter Allgemeine Zeitung'.
"They're giving their input to the Good Governance Committee, which will then submit its suggestions to the Executive Committee and Congress, where the matter will in turn be dealt with".
One of the reasons for the supposed corruption within the game's governing body was the setup of the Executive Committee which, Blatter explains, will be reformed.
"It was decided that in future, Congress, the delegates from the 208 member associations, should vote for the host countries of World Cups, not the Executive Committee, and also that the Ethics Committee should be expanded" Blatter added.
"There should also be a bureau of investigation and a tribunal whose members are elected by the members of Congress and not by the Executive Committee. The establishment of a Good Governance Committee was also agreed upon.
"All this was accepted with 99 per cent of the votes. It was recently brought into question whether I was even allowed to bring that to vote, and I had to say 'Sorry, but Congress is the supreme body'," he stated.
The awarding of two World Cups simultaneously was deemed by many as a mistake that could have prompted collusion, and Blatter admits that he has regrets over the decision.
"Look at it this way: Anyone who works a lot makes mistakes from time to time," he said. "One thing I would never do again is allow the Executive Committee to award two World Cups at once.
"It led to a conflict of interests because everyone was able to vote, even if their own country was involved in the bidding. That was a mistake."