Falklands condemns Argentina for early opening of the Illex fishery
Friday, December 9th 2011 - 06:24 UTC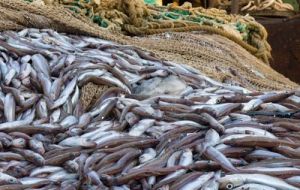 The new Chair of the Falkland Islands Fishing Company Association condemned Argentina for their two month early opening of their illex (squid) fishing season, "with complete disregard for conservation of the stock".
In a speech to members and other invited guests at a reception in Stanley Wednesday night the Managing Director of Beauchene Fishing Company Ltd. Cheryl Roberts said Argentina continues with its attempts to undermine the economy of the Falkland Islands.
"We never know what our neighbours have in store for us" said Ms Roberts referring to the ongoing harassment of Falkland Islands licensed fishing vessels operating in the South Atlantic.
At the well attended gathering Ms Roberts congratulated the Falklands' fishing industry for continuing to work jointly with the Falkland Islands Fisheries Department "to enable us to get an improved understanding of how science and the scientists work."
She added, "Resource rental work is ongoing and this important piece of work has been jointly funded by industry and the government, a fine example of how we work together."
Ms Roberts recalled that Argentina was directly responsible for the virtual destruction of the species Southern Blue Whiting in the South West Atlantic where the situation was described by scientists as "a sad demise to a rather lucrative fishery due to poor management and lack of a regional fisheries management authority."
The species that spawns around the Falklands Islands in the Cape Meredith area was once an item high on the agenda of the South Atlantic Fisheries Commission (SAFC) an authority where the Falkland Islands and Argentina were able to share stock assessment information and agree Total Allowable Catch (TAC) of South West Atlantic Stocks.
In 2005 Argentina walked out of the Commission and since then has refused to cooperate or share any data with the Falklands with the results on the table.
Argentina decided to advance the squid season from February first to December first with the purpose of assessing its abundance and eventually catch it "before it migrates to mile 201 or Malvinas waters", according to official reports. (PN)