Peru's fish meal anchovy finds a new successful outlet in the burger market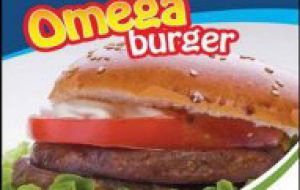 Peruvians now have a choice of good food thanks to a hamburger produced by TASA that is made with anchovy pulp: Omegaburger Kontiki, innovative product rich in protein, minerals, vitamins and Omega 3 fatty acids.
The anchovy, which has been used for many years only to produce fishmeal, is presented through Omegaburger Kontiki, an innovative and ideal solution for a society that urgently need fast food solutions. In the global market, hamburgers, chicken, and other food are known to bring pragmatism to meet the need of consumers.
Easy to prepare, great acceptance and also at an affordable price, Omegaburger Kontiki has become the burger of choice among the Peruvians, since it went on sale in mid March this year. The fish burger, produced by TASA, won this year's Business Creativity Award in the category "Food and Nutrition".
"One of the reasons we got the prize is because Omegaburger Kontiki retains all the nutritional qualities of anchovies in a burger. For TASA this is an indisputable proof of our commitment to nutrition in the country to encourage the human consumption of fish and promote healthy eating", said TASA's general manager, Carlos Pinillos Gonzalez.
TASA has been working with the commitment to promote fishery products of the highest quality in harmony with the community and the environment in the country. The company has a plant designed specifically for the production and processing of pelagic species.
TASA is a Peruvian company dedicated to the extraction, processing and marketing of aquatic resources for direct and indirect human consumption. The company has 55 vessels and 14 plants processing fishmeal, fish oil and frozen fish for human consumption. Since 2006 TASA has opted for the domestic market for the distribution of fresh, frozen and canned fish. They also distribute in the domestic market more than 27 million kilograms of horse mackerel, mackerel and sardines for human consumption, almost one kilogram per person per year. (FIS).