Non-official Argentine inflation hits 1.9% in December and 22.81% in 2011
Friday, January 13th 2012 - 20:15 UTC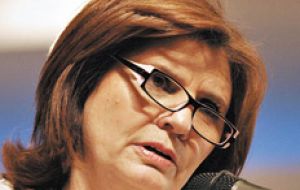 Argentine opposition lawmakers presented December's consumer inflation index based in the analysis of nine private agencies, which showed a 1.9% increase over the previous month and totalling 22.81% for the twelve months of 2011, roughly double the official index.
"December's index reached 1.9%" said lawmaker Patricia Bullrich during a press conference next to peers Ricardo Gil Lavedra, Miguel Bazze and Ramona Pucheta from different opposition groupings.
Bullrich considered that the December index was "very high" because the price index had reached 1.4% in November adding that Argentina is only second to Venezuela in the inflation top list of Latam countries.
"The government must understand that inflation is at the heart of Argentina's problems", said Gil Lavedra.
The index announced by lawmakers also known as the "Congressional index" came into existence following the threat by the notorious Domestic Trade Secretary Guillermo Moreno, to fine and imprison all those who publish non-official indexes. The only official index allowed to be made public is that of Indec, the Argentine stats and census Institute questioned by most Argentine sectors and even the IMF.
Several Argentine private consultants that elaborate their own indexes were fined up to 500.000 Pesos (approx 125.000 dollars) for broadcasting stats allegedly in violation of the commercial loyalty bill that "bans any presentation or publicity which through inaccuracies, half truths deceives, confuses or misleads consumers".
The official December and full 2011 indexes from Indec are expected any moment and it is anticipated to be below 1% in December so that the 2011 twelve month is below two digits, or less than half the private estimates (22.81%).
The region's country with the highest inflation is Venezuela with 30% (2011). Brazil, Latam's largest economy and Argentina's Mercosur partner and main trade associate recorded an inflation of 6.7% in 2011.