HMS Montrose: Argentina thanks Humala; Peruvian opposition calls minister "incompetent and foolish"
Wednesday, March 21st 2012 - 06:16 UTC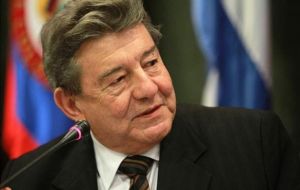 During a live press conference on Tuesday, Argentine President Cristina Fernández thanked "the Peruvian government and population" for their decision to leave without effect the scheduled, but controversial, visit of a British frigate "in support of the Argentine sovereignty claim over the Malvinas Islands."
"I am very proud of the Peruvian people and their government's attitude, which honours the history of the struggle against colonialism," stated the Argentine leader.
"We want a demilitarized South Atlantic," the Head of State added, as she made a call to all the countries of the region to make efforts to "maintain a joint defence" of the South Atlantic area.
"We have no problems here, and we don't want anything to do with war. The world is militarized enough as it is now, with some of the world powers murdering entire civilizations. We want to keep our distance from that," she assured as the audience applauded.
However the last minute decision from the President Ollanta Humala administration was harshly criticized by the Peruvian political opposition and media.
Peruvian lawmaker Lourdes Alcorta deemed the decision announced by Foreign Minister Rafael Roncagliolo as "impertinent and foolish" while the right-wing group Fuerza 2011 was said to be considering making a constitutional accusation.
The Congressional Defence Committee summoned Roncagliolo and Defence Minister Luis Alberto Otálora for explanations. Media outlets were demanding for the Foreign Minister to resign, and accused him of contradictions.
The arrival of the HMS Montrose was scheduled for Thursday and was backed by the Congress' permission per the Executive branch's request.
Centre-right lawmaker Carlos Bruce complained about the incident and said that "when two countries hold a controversy does not mean that we must break relations with either of them".
Foreign Minister Roncagliolo justified the decision while addressing reporters and said that the UK Ministry of State for Foreign Affairs, Jeremy Browne, was told of the measure during his visit to Lima on Friday.
The UK embassy in Lima said in a communiqué that it regretted that Browne was not informed of the decision during his visit and stressed the fact that "Great Britain is committed to the iIlanders right of self-determination and that will not change."
Defence Committee members Bruce and Johnny Lescano assured Roncagliolo not only made a mistake, but that he "overstepped the limits of the Constitution" as well.
Roncagliolo is a 67 year old sociologist who is the only member of President Ollanta Humala's cabinet with left-leaning ideas, is questioned by certain sectors that accuse him of "not being qualified" for the post.