Uruguay looks to China to expand trade and services, and attract more investment
Friday, June 1st 2012 - 02:24 UTC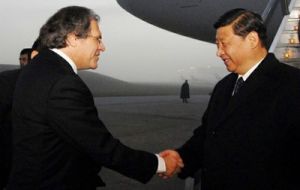 Uruguay looks forward to increase trade with China in value and diversification as Beijing commands a bigger economic and cooperation role in South America, Uruguayan Foreign Minister Luis Almagro said in an interview with China Daily.
"Uruguay attaches much importance to its relations with China", said Almagro, adding that both countries "whose economies are highly complementary, are interested in pushing forward cooperation".
Vice-President Xi Jinping received Almagro on Wednesday, pledging to consolidate political trust and cooperation in sectors such as infrastructure, industry and agriculture. "It conforms to the fundamental interests of the two states to further bolster friendly cooperation" Xi said, underlining the consensus between both sides.
The minister, who served as ambassador to China from 2007-09, was on a four-day working visit to China that ended on Thursday.
On Monday, Almagro participated in the First China Beijing International Fair for Trade in Services, making the formal introduction of the services sector development in Uruguay.
"Through such a platform, Uruguay seeks to promote the opening of China services' trade and to increase Uruguay's software, logistics, audiovisual products and some other areas on which the bilateral trade can be increased," said the minister.
In 2011, China-Uruguay trade reached 3.4 billion dollars, 20 times more than it was in 1988, when the two countries established diplomatic ties. China in the last five years has become Uruguay's second- largest trading partner behind neighbouring Brazil.
Economic cooperation with China has facilitated Uruguay's exports and economic development, the minister said. "But such cooperation hasn't been dynamic enough. Now we have to complement it with a new quality of economic relations".
Almagro said Uruguay hopes to attract more Chinese investors to Uruguay in many fields, such as telecommunications and infrastructure and "we hope China will import more South American products with higher added value".
According to Almagro, China and Uruguay are currently discussing several new cooperation agreements to explore the "huge potential of economic ties" and called for more involvement by the Chinese banking system in that cooperation.
"Uruguay is able to provide many advantages for Chinese investors, including a safe and reliable environment, an open economy, a large consumer market with Mercosur and a comprehensive, fair and safe legal framework for investors," he said.
Despite the limited population of Uruguay (about 3.3 million), it can help introduce China to Mercosur which includes Argentina, Brazil, Paraguay and Uruguay, said Chen Yuanting, a Latin American studies expert with the Chinese Academy of Social Sciences.
China is a key investor in the Uruguayan auto industry and infrastructure projects, and is the largest buyer of Uruguay's wood, soy and cellulose.