Paraguay to appeal Mercosur sanctions before the The Hague Court of Justice
Wednesday, August 8th 2012 - 18:21 UTC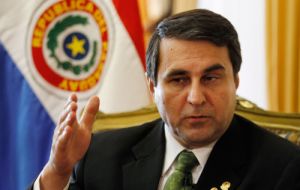 The Paraguayan government had decided to appeal before the International Court of Justice in The Hague the suspension imposed on Paraguay by the governments of Argentina, Brazil and Uruguay as a sanction for the removal of Fernando Lugo as president of the country, last June 22.
Foreign Affairs minister Jose Fernandez Estigarribia said Paraguay was only waiting for the report from a Spanish jurist who had been consulted on the issue and thus strengthen the arguments to be presented in The Hague against the decision from the three presidents.
Paraguay rejects the sanctions and also the decision to accept Venezuela into the regional block since it considers the measure "void and null" since it was adopted ignoring the opinion of Paraguay, the fourth full and founding member of Mercosur.
Fernandez Estigarribia acknowledged that his ministry already has two juridical reports with contradicting positions on the issue.
The minister was quick to ensure that currently "there are no negotiations" with the other members of Mercosur for the lifting of the suspension which is to hold until national elections scheduled to take place April 2013.
Paraguayan president Federico Franco meeting with journalists at Government House revealed he had information from the Organization of American States Permanent Council that will be holding a special session at the end of the month to decide on the situation of the country.
OAS has yet to state a position regarding the suspension of Paraguay from Mercosur, including the impeachment process of Fernando Lugo and his replacement by Federico Franco at the end of last June. While Mercosur and Unasur have sanctioned Paraguay, the OAS is divided.
President Franco also revealed that he is planning to attend the UN annual General Assembly next September, when leaders from all over the world meet to discuss global issues.
"God providing, I have plans to address the General Assembly and tell the world what really happened in Paraguay", said Franco during a ceremony delivering books and an internet centre to school children.