UK wants to control South Atlantic access and resources, claims Argentina
Tuesday, January 29th 2013 - 06:02 UTC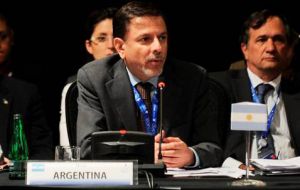 Argentina claimed at the CELAC summit in Chile that the UK has converted the Falkland Islands into one of the "most militarized territories in the world" with the sole purpose of exploiting the natural resources of the Islands and control access to Antarctica.
"We believe that the sole purpose of militarization is to guarantee the exploitation of natural resources and hydrocarbons" claimed Deputy Foreign minister Eduardo Zuain addressing the Community of Latinamerican and Caribbean States summit on Monday.
He was speaking for President Cristina Fernandez who had left Sunday evening following on CELAC's first summit with representatives from Europe 27.
"The British government is after the military control of the South Atlantic, the issuing of 'savage' fishing licences and controlling access to Antarctica", added the Argentine official who also thanked the rest of the CELAC members for their support to the claim over the Malvinas Islands, because "we want a Latinamerica free of colonialism".
However Zuain was quick to argue that Argentina wants to resolve the dispute on the Malvinas sovereignty through "peaceful negotiations" with the UK. Argentina also claims the South Georgia, South Sandwich Islands and adjoining maritime spaces.
Zuain affirmed that in the Falklands there is "one soldier for every three civilians", which makes it one of the most militarized areas of the world.
On Sunday evening before leaving for Buenos Aires, President Cristina Fernandez said that during the meeting with her peer and host Sebastian Piñera, the Chilean leader "gave her his country's full support in the Malvinas sovereignty cause".
President Piñera also expressed his desires to "expand their ties in Antarctica, where both countries share historic and essential rights, and where they must expand their unity."
Cristina Fernandez delegation also included the new ambassador in Washington Cecilia Nahón who told the Argentine media she would be taking her office in Washington "in a couple of week"