Cristina Fernandez will attend inauguration mass for Francis I
Thursday, March 14th 2013 - 03:04 UTC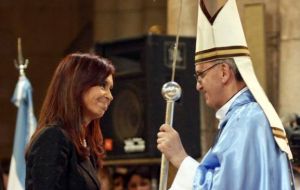 Argentine President Cristina Fernández will be attending the official ceremony installing Jorge Ramon Bergoglio as Francis I which is scheduled to take place next March 19. The announcement was made by the presidential office.
Earlier in the day Cristina Fernandez addressed a letter to Bergoglio and congratulated him on being elected the new leader of the Catholic Church.
"On behalf of the Argentine Government and the people of our country I would like to salute you and congratulate you for being chosen as the new pontiff of the Catholic Church," she said in a letter addressed to him.
The President, who referred to him as "Your Holiness Francis," wished the Argentine Pope "a fruitful task."
"It is our wish that, as you take command of the Church, you have a fruitful task as you take over the immense responsibility of fighting for justice, equality, fraternity and peace for humanity," she added.
Pope Francis will be officially installed as the new leader of the Roman Catholic Church on March 19, the Vatican said.
Vatican spokesman Father Federico Lombardi also told a news conference that Francis had telephoned Pope Emeritus Benedict XVI shortly after his election, adding that he would visit him soon.
The papal inaugural mass is customarily attended by heads of state and governments.
The Argentine president also referred to the historic event while attending an official ceremony and said she hoped Pope Francis will "send a message to the great powers so they will engage in dialogue."
"We hope Pope Francis will be able to achieve a larger degree of fraternity between the people of the world and we also hope he can achieve a meaningful task for the region" said Cristina Fernandez.
Likewise, "let's hope he will send a message to the great powers so they will engage in dialogue. That he will manage to talk those wielding the power, those who have weapons and financial might, into looking at the emerging countries and promote civilized dialogue".