Election year fever in Argentina: fuel price freeze and lower interests on bank arrears
Wednesday, April 10th 2013 - 23:17 UTC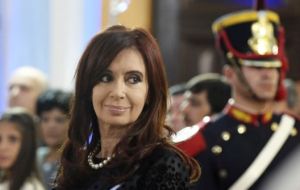 Election fever in Argentina: the administration of President Cristina Fernandez froze the price of gasoline and diesel sold at service stations for six months and convinced banks to cut interest payments on arrears. Last month supermarket chains and other suppliers agreed to extend the current price freeze.
Price caps were set for six areas covering the whole country in a resolution signed only by Internal Commerce Secretary Guillermo Moreno published in the official gazette on Wednesday.
The fuel price restrictions follow agreements with supermarkets to freeze prices at least until June 1 as President Cristina Fernandez struggles with surging consumer prices before congressional elections in October.
An independent inflation gauge published by opposition lawmakers estimated prices rose 25% in the year through Feb. 28, compared with a 10.8% rate reported by the government's statistics agency, Indec for the same span.
"It's absolutely necessary to dictate policies to determine the price of liquid fuels in order to avoid inconsistencies in the price paid by consumers," Moreno said in the resolution.
The government's oil and gas company YPF, Royal Dutch Shell, Bridas Corp., Axion Energy and Petrobras Argentina are the largest refiners and fuel suppliers in Argentina.
YPF released a communiqué informing that the government's price freeze on liquid fuels "will neither affect the company's price policy or its business plan for the current year." Likewise, YPF indicated that its prices "are the less expensive of the national market."
Private banks also announced they will cut interest rates on payment arrears and debt refinancing that credit cards charge clients with from 45 to 30%.
The head of the Private Banks of Argentine Capital Association (ADEBA) Jorge Brito pointed out that the measure has been driven by a "self-regulation" move of the financial entities that seek to benefit clients.
The interest rate cut has been decided following a meeting between ADEBA, the Association of Public and Private Banks of the Republic of Argentina (ABAPPRA)and the Association of Argentinean Banks (ABA).
Argentina is holding mid term elections next October when half the Lower House and a third of the Senate seats will be up for grabs. President Cristina Fernandez needs a strong showing to continue having control over Congress for two main purposes.
One of the reasons is to have sufficient power to name her successor in 2015 and continue with the 'Kirchnerism' model and avoid the 'lame duck' syndrome suffered by several of her predecessors in the Casa Rosada since the return of democracy in 1983.
Raul Alfonsin had to advance the presidential election (and shorten his mandate) after suffering a major defeat in the mid term election two years before the end of his six year period.
Carlos Menem underwent a similar process but having lost control of the party preferred to help an opposition victory of Radical leader and President Fernando de la Rúa. His administration lost mid term elections in 2001 and with no congressional support was forced to resign as Argentina's economy melted and the country defaulted.
Nestor Kirchner one four year mandate avoided the curse by handing over the government to his wife Cristina Fernandez, and she was re-elected in 2011 on a booming economy.
A more ambitious target for Cristina Fernandez is to have sufficient votes in Congress to pass an amendment that opens the way for her bid to a third consecutive mandate, currently banned by the Argentine constitution.