Ecuador tells Washington to submit its position on Snowden case 'in writing'
Wednesday, June 26th 2013 - 17:15 UTC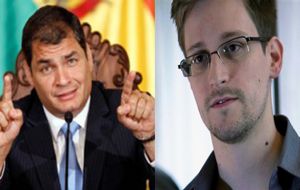 Ecuador said on Wednesday the United States must "submit its position" regarding Edward Snowden to the Ecuadorian government in writing as it considers the former U.S. spy agency contractor's request for asylum. Ecuador, in a statement from its embassy in Washington, said it would review the request "responsibly".
"The legal basis for each individual case must be rigorously established, in accordance with our national Constitution and the applicable national and international legal framework. This legal process takes human rights obligations into consideration as well," the statement said.
"This current situation is not being provoked by Ecuador," the embassy said.
Snowden, 30, a former employee of the U.S. contractor Booz Allen Hamilton, appears to be still in hiding at a Moscow airport awaiting a ruling on his asylum request from the tiny South American nation's leftist government.
He fled to the Russian capital from Hong Kong on Sunday, evading a U.S. request that he be extradited to face charges that he stole and leaked details of secret U.S. government surveillance programs.
Ecuadorian President Rafael Correa has not flinched in the past from taking on western powers.
His government is already embroiled in a dispute with Britain and the United States over its sheltering of Wikileaks founder Julian Assange at its embassy in London.
In its statement on Wednesday, the embassy said it "strongly rejects" statements made by U.S. government officials that it said contained detrimental, untrue and unproductive claims about Ecuador. It did not elaborate on those statements.
Ecuador, the statement said, has signed human rights agreements and is committed to the rule of law and the fundamental principles of international law.