Francis congratulates Cristina Fernandez on her first grandson with a pair of shoes and socks
Monday, July 29th 2013 - 05:29 UTC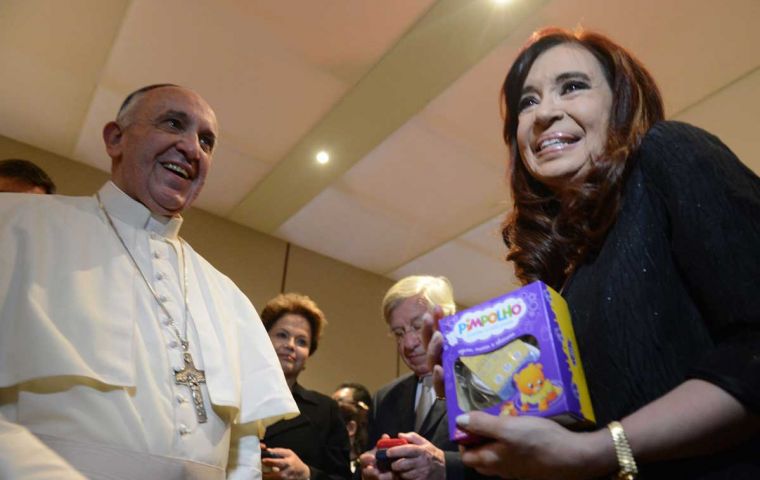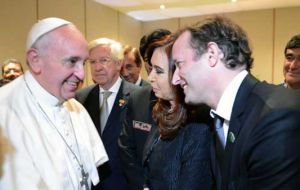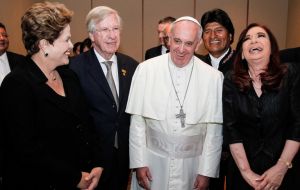 Pope Francis met with President Cristina Fernandez and other South American leaders following the closing ceremony of the XXVIII World Youth Day in Rio do Janeiro and presented the Argentine head of state with a gift of socks and shoes for her recently born first grandson Nestor Ivan Kirchner.
"Look at the gift from Pope Francis for Nestor Ivan" said Cristina Fernandez to the Argentine media which covered the week long events in Rio and which concluded on Sunday with the massive three million gathering in Copacabana beach.
"And he also blessed my rosaries" added the president who attended the Sunday mass next to Brazilian president Dilma Rousseff, Bolivia's Evo Morales and Uruguay's Vice president Danilo Astori.
Cristina Fernandez arrived in Brasil Saturday night together with Foreign minister Hector Timerman and the head of the slate for the Lower House in representation of Buenos Aires province, Martin Insaurralde, among other political figures.
An estimated 40.000 Argentine pilgrims turned up at Rio do Janeiro in support of the Argentine born Pope and former Buenos Aires Archbishop Jorge Bergoglio in his first overseas trip.
The Argentine president and her deceased husband and former president Nestor Kirchner had a tense relation with Cardinal Bergoglio because of his repeated public claims about poverty, corruption and poor GDP distribution in Argentina. This was later extended to include criticisms to the bill allowing for the same sex marriage and controversy over abortion.
Furthermore the president organized a team to research into events during the latest dictatorship to check on Bergoglio's life and his alleged 'passiveness' when a few Jesuit priests, from the same congregation he belongs, were kidnapped and disappeared. So far however they have been unable to unearth damaging exposure on the former bishop.
However since Bergoglio became pope last March, Cristina Fernandez has adopted a more conciliatory attitude towards Francis hoping to take advantage of such a relation, to the extent she managed a picture of her Buenos Aires province candidate Insaurralde, with the Argentine pope.