Iran's activity in the Americas to be re-evaluated, pledges Kerry to Congress
Tuesday, August 6th 2013 - 03:19 UTC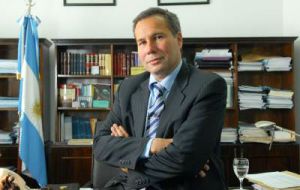 In a recent letter to Republican senator Mark Kirk, the US State Department said that in light of Argentine prosecutor Alberto Nisman's report on Iran, they were now re-evaluating the information in their highly criticized May report on Iranian activity in the Western Hemisphere.
The report was mandated by Congress but "was panned as poorly written and seeming to downplay the Iranian role in the region by lawmakers and experts."
"The Nisman report was made public after our report was completed, so we asked the intelligence community to evaluate the information in the report on a priority basis," the letter says.
"In addition the Embassy Buenos Aires reached out to Mr. Nisman, a regular contact, to ensure we fully understand his points and have the most up-to-date information he can share with us."
According to The Daily Beast, lawmakers close to the issue were satisfied with the State Department's decision but "pledged to monitor the administration's handling of the Iranian-Latin American terrorism connection going forward."
"I am encouraged Secretary Kerry is making this a priority issue and I look forward to working with him to implement a comprehensive multilateral strategy to counter Iranian influence in the Western Hemisphere," Kirk told The Daily Beast.
As it turns out and according to an article from IPS and credited to Charles Davis, Senator Mark Kirk, from Illinois has been a vocal critic of Argentina, writing a letter to president Cristina Fernandez denouncing her agreement with Iran to investigate the 1994 bombing of the AMIA Jewish community centre in Buenos Aires.
For this, writes Davis, Senator Kirk has received more than 95.000 dollars from employees of Paul Singer's firm, Elliott Management, according to the Centre for Responsive politics. Indeed, many letters expressing concern about Argentina's ties to Iran are signed by lawmakers who have received campaign cash from Singer and his close associates.
Paul Singer has an ongoing litigation with Argentina over defaulted bonds it pretends to cash in full, capital and interests. The case is in an appeals court in New York and could reach the Supreme Court, following the summer recess.
A July 10 letter to Attorney General Eric Holder, for instance, urged the Justice Department not to side with Argentina in its legal battle before the Supreme Court, citing both the Iran-AMIA agreement and Argentina's expanding trade with the Islamic Republic "at a time when the rest of the world (including the United States) is attempting to isolate Iran to pressure it to give up its nuclear programme."
"Rewarding Argentina's decision to flout well-established international principles regarding the orderly restructuring of sovereign debt, this has clearly emboldened its leaders to defy other international norms with impunity," the 12 lawmakers wrote.
Those who signed the letter received more than 200,000 dollars last year from companies tied to Singer.
One signer, Congressman Michael Grimm, a New York Republican on the House Financial Services Committee, was re-elected to Congress last year after receiving 38.000 dollars from Elliott Management, nearly twice as much as his next largest donor.
Grimm has cosponsored legislation demanding "full compensation" for Argentina's bondholders – the sponsor of that bill, former congressman Connie Mack, took in 39.000 from Singer's company, and has urged the Barack Obama administration to investigate Argentina's relationship with Iran.