HMS Argyll sails across the Panama Canal on the last leg of her deployment
Monday, August 26th 2013 - 04:10 UTC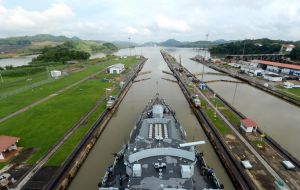 South Atlantic patrol HMS Argyll is coming to the end of her seven month deployment and next month is expected back in Davenport. Last week the Type 23 frigate crossed the 80 kilometre Panama Caal sailing two seas in one day, after finishing an intense period of counter-narcotics operation in the Eastern Pacific.
HMS Argyll made the spectacular journey through the canal to continue her deployment and will now take part in further counter-narcotics work and regional engagement visits before returning to her Devonport home in September.
During her seven month tour HMS Argyll after calling in Portugal visited several countries along the west coast of Africa before crossing to the Falkland Islands and South Georgia, where she spent several weeks.
Later she sailed up the western coast of South America before crossing to the Caribbean.
Her South Atlantic patrol tasking duties have been taken up by the Portsmouth-based frigate HMS Richmond. According to the official release she left Portsmouth on Monday 5 August and will maintain the continuous Royal Navy presence in the Atlantic and provide an ongoing protection and reassurance to British regions within the region.
The Atlantic Patrol Task will see HMS Richmond undertake maritime security operations, including counter-narcotics and anti-piracy patrols, providing opportunities to work with a number of other navies to further strengthen ties and demonstrate the Royal Navy's commitment to the region.