Mercosur cancels summit until end of January waiting for Cristina Fernandez
Friday, November 8th 2013 - 14:32 UTC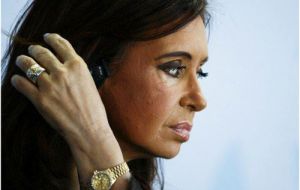 The Mercosur summit scheduled for December in Venezuela has been suspended and will most probably take place sometime in late January announced Uruguayan president Jose Mujica who on Friday cancelled a trip to Brasilia to meet with his peer Dilma Rousseff.
"We're suspending the Mercosur summit in Caracas until sometime in late January because (Argentine president) Cristina Fernandez who is recovering and following medical indications can't fly yet and we want her to be there with us", said Mujica in Montevideo.
Last week it was revealed that the Argentine president was recovering 'rapidly', had started to read some newspapers, held meetings with some of her advisors and was making long walks in the presidential residence park. However the stress and no-flights stood, much depending on a medical checkup scheduled for sometime on Friday.
Nevertheless the Argentine president has official authorization from Congress to travel overseas on 'government business' and it is expected that sometime in mid January the ban on flying will be lifted.
Nevertheless when Cristina Fernandez returns to her presidential activities she will have to do so gradually, with a light agenda and limited number of meetings with ministers and advisors.
A month ago Cristina Fernandez underwent surgery to drain a cranium miniscule blood clot.
Meanwhile in Montevideo, the Uruguayan foreign ministry said Mujica's trip to Brasilia had been cancelled until next week when he is also planning to travel to Venezuela to meet with President Nicolas Maduro.
"The trip to Brasilia is cancelled but the idea is to include it in the itinerary of another trip long planned to Caracas, most probably in the next few days", said ministerial sources.
Earlier this week Mujica had announced he was going to visit Dilma Rousseff on Friday since he wanted to talk about the withdrawal of troops from Haiti, trade relations and the new scenario in Mercosur, given Argentina's latest measures restricting trade and Uruguayan ports' activities.
"I need to talk with Dilma about Haiti, trade relations, the deep water project, electricity interconnection among other issues" anticipated the Uruguayan leader.