IMF holding constructive talks with Argentina on inflation and GDP data
Saturday, November 9th 2013 - 03:27 UTC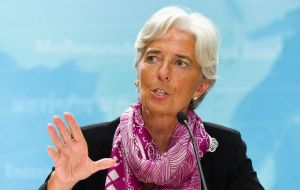 International Monetary Fund announced it was holding "constructive" talks with Argentina about addressing flawed economic data that led to an unprecedented IMF censure of a member country.
"Fund staff had constructive discussions with the authorities on their efforts to improve official data on the consumer price index and on the GDP," said IMF spokesman Gerry Rice.
The IMF managing director, Christine Lagarde, must report to the Fund's executive board by next Wednesday on Argentina's progress in remedying the situation, he said.
On February 1, the IMF formally censured Argentina for failing to supply accurate data on gross domestic product and inflation as its membership requires.
The Fund had pressed Argentina for two years to provide factual figures, accusing the country of minimizing inflation and overstating GDP growth.
The censure by the board, representing the Fund's 188 member nations, paved the way for Argentina to possibly lose its voting rights, or even lose its membership, if it fails to improve the quality of its data.
Rice said there was no date set yet for the board to discuss Lagarde's report.
The data strains came in the context of long-running tensions between the IMF and Argentina, after the country defaulted on its sovereign debt in 2001 and largely blamed the Washington-based institution for its economic woes.