Falkland Islands case to be addressed on Thursday at the UN C24
Wednesday, June 25th 2014 - 06:11 UTC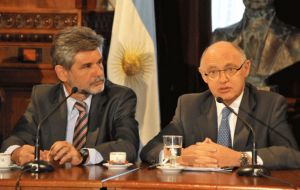 Foreign minister Hector Timerman is heading a multi-party delegation that on Thursday will make the presentation of Argentina's position on the Falklands/Malvinas Islands sovereignty dispute before the UN Decolonization Committee in New York.
The delegation also includes former senator Daniel Filmus who is now responsible for the Desk on Affairs Relative to the Malvinas Islands in the foreign ministry.
The Decolonization Committee or C24 started meetings on Monday when the issue of Puerto Rico, the US associate state, was addressed and on Thursday is scheduled to discuss the Falklands/Malvinas case.
In representation of the Argentine political opposition are lawmakers Julio Martínez from the main opposition Radical party; Patricia Bullrich who is a member of Buenos Aires City Mayor Mauricio Macri political group and Socialist Senator Ruben Giustiniani.
"The Malvinas question is a matter of State, above partisan considerations", said Deputy Martínez, adding in a release that "the issue must not be over-acted by government or taken as a speculation by the opposition".
Timerman will be addressing the C24 and is again expected to request bilateral talks with the UK on the Falklands/Malvinas, as Argentina has been doing for decades.
The UK position, which is responsible for defense and foreign affairs of the Falkland Islands is that the dialogue must also include the Islanders and will only take place when they so request it.
This was emphasized by last year's referendum when an overwhelming majority of the Falklands electorate voted to remain as a British Overseas Territory.
Two members of the Falklands' Legislative Assembly are also scheduled to take the stand and make the Islands position before the UN C24.