Argentine convicts want to form their own political party for 2015 presidential elections
Monday, December 22nd 2014 - 23:56 UTC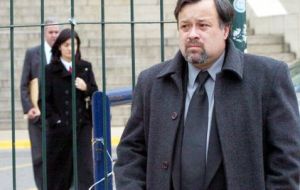 Leader of the presumed innocent hopes to lure 200,000 of his fellow prison inmates to vote for "one candidate." (most likely FPV)
Carlos Telleldín, jailed for his involvement in the 1994 bombing of the Jewish social organisation AMIA, announced he wants to form a political party of inmates for next year's presidential elections. "Our intention is to get into the prisons," said Telleldin, who managed to get a law degree during his incarceration.
According to Argentina's electoral law, all those detained who must be presumed innocent because their judicial situation has not been exhausted, that is to say that ordinary appeals and other proceedings are still available, are allowed to vote. Telledin wants his party to work for "one candiate [for president]." he explained.
Each prisoner's vote counts as if cast in the district of his or her last home address, which would make little difference for local offices. But for those of President and Vicepresident, the entire country is one large district where to some 200,000 supporters Telledin hopes to recruit might be of some significance.
"We would have to build up an alliance and the chosen candidate would get to receive our votes, which are those of the prisoners plus the ones of their relatives," Telleldin explained.
Telleldin has reportedly backed former Vicepresident and current Governor of Buenos Aires Daniel Scioli of President Cristina Fernandez de Kirchner's ruling Victory Front (FPV).
Asked whether the prisoners' endorsement would scare away other potential voters, Telleldín said that "that's for the candidate to assess."
The idea stems from Brazil, where it started as a union of prisoners and is now an important [political] party," explained Telledin who went on to add that "together with some other 20 lawyers we're working to achieve that."