Argentine Jewish community wants a 'Day of national mourning', for the burial of Nisman
Saturday, January 24th 2015 - 06:33 UTC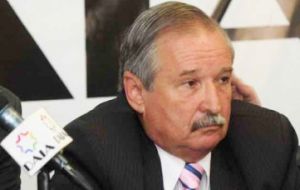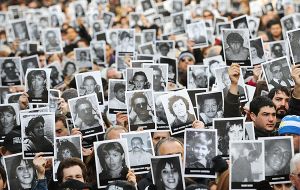 The head of Argentina's DAIA Jewish community organization Julio Schlosser has urged for the day of Alberto Nisman's burial to be an official "day of national mourning", in tribute to the late prosecutor who was found dead this week.
"We want the burial of prosecutor Nisman, as soon as his body is returned, to be declared a day of national mourning," Schlosser told the Jewish News Agency on Friday.
The community leader added that Nisman, who had been the lead investigator into the 1994 AMIA bombing, would most probably "be buried in a Jewish cemetery."
The DAIA and AMIA headed a rally on Wednesday at the site of the attack, in Buenos Aires where they asserted that Nisman would be an "irreplaceable" prosecutor but that nevertheless the investigation must continue.
"People are tired of not having justice," was the message from the two organizations in a rally which attracted a large number of representatives from the opposition.
Asked about Nisman, Schlosser reiterated that he was "one more victim" of the bombing, in which 85 people lost their lives.
"A federal prosecutor has died and this is something that reveals civility. We are not going to allow our hope, our need for justice, to die with his death," he underlined.
In another show of the Argentine Jewish community's disappointment with the government of President Cristina Fernandez, several groups have decided, for the first time ever, not to participate in the Foreign Ministry's Holocaust memorial ceremony scheduled for January 27, due to "disagreements and problems" with the national government.
They will instead hold their own remembrance service on Tuesday at the AMIA Jewish community auditorium, which will be organized by the DAIA association, the Argentine Zionist Organization (OSA), the Simon Wiesenthal Centre and other Jewish organizations.
With this action, Jewish organizations — the majority of which have regularly participated in the ceremony since its inception — are further distancing their relationship with the Argentine government following the death of AMIA special prosecutor Alberto Nisman.
Argentine Jewish community representatives told the Argentine Jewish News Agency (AJN) that they had decided not to participate in the ceremony this year because of "the death of the AMIA prosecutor Alberto Nisman" and over "disagreements with the Memorandum of Understanding signed with Iran."
An unidentified leader of the Jewish community also told AJN that that the reason for their change in stance was "the disorderly handling of this issue by the government, their lack of respect in their communications," noting that officials should have been silent instead of talking about the prosecutor (Nisman) and an investigation that is still ongoing."
The leader also said it was a statement against Foreign Minister Héctor Timerman, since the Jewish people "would not support" their leadership going to the Foreign Ministry. Last week, Nisman filed a complaint against President Cristina Fernandez and Foreign Minister Hector Timerman for an alleged plot to cover up the 1994 AMIA terrorist bombing.