Nisman "was not the maker of his death" underlines former wife at the burial
Friday, January 30th 2015 - 07:14 UTC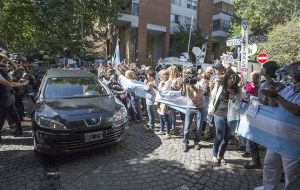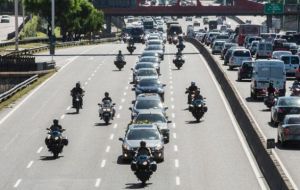 Argentine special prosecutor Alberto Nisman was buried on Thursday in the same section of the main Jewish cemetery in Buenos Aires as the victims in the 1994 AMIA bombing that he was investigating, but the circumstances surrounding his death have become even more confusing and mysterious.
In effect his former wife, and magistrate, Sandra Arroyo Delgado in a final overwhelming farewell statement at the cemetery was quoted saying he (Nisman) "was not the maker of his death" and apologized for the workings of the Argentine judiciary branch, "to which I belong, but I don't know if it is working as it should".
The funeral procession to the Jewish cemetery took off Thursday morning led by a police escort. Along the route, people waved Argentine flags with black ribbons and held signs that said "Justice," "Thank you, Nisman" and "We all are Nisman". Some chanted Argentina's national anthem.
Nisman's grave was located in the "Martyrs Section," where the victims of the AMIA Jewish center attack are buried. Eighty-five people were killed and 300 injured in the Buenos Aires bombing; some are calling Nisman the 86th victim.
Following a ceremony held by Rabbi Marcelo Pollakoff eulogies were presented by the writer and philosopher Santiago Kovadloff and Waldo Wolff, vice president of the DAIA umbrella Jewish communal organization in Argentina. The mourners included Nisman's two daughters, Lara and Kala; Nisman's mother, Sara Garfunkel; and his ex-wife Arroyo Salgado.
Nisman, 51, the special prosecutor in the AMIA bombing, was found in his Buenos Aires home on Jan. 18, hours before he was to present evidence to Argentine lawmakers that President Cristina Fernandez and officials from her administration were involved in a cover up of Iran's role in the attack.
"This is burying part of our republic," said Patricia Bullrich, an opposition member of Congress, before entering the cemetery. "It's a day of reflection and sadness for all of Argentina."
A farewell letter written by Nisman's daughters to their father was published Thursday in Argentine papers. "We hope now you can rest in peace. We will guard in our hearts the beautiful moments we lived together," they wrote.
In a separate funeral notice, Nisman's ex-wife Salgado said she felt "profound sorrow" for their daughters. "I say goodbye to you, hoping you find the peace that your dedication to your job did not let you fully enjoy," it said.
But her statements at the cemetery ceremony were even more categorical and revealing of the process looking into her former husband's death.
"As your ex-student, your colleague in Law and as a member of the Judiciary, I know you trust me, and as a magistrate I must beg your pardon because I belong to that Judiciary which I do not know if it is working as it should to reach the real truth of this end", said Arroyo Salgado.
"We don't know who did it, but I trust that all those people to whom I can appeal will help me do everything possible", she added.
"His passage through life is already part of Argentina's history. What the tragic death of Nisman did, was to again raise the rubble of AMIA and DAIA which today are further from finding justice than in that 18 July 1994", pointed out Waldo Wolf, vice president of DAIA.
"We are many the Argentines that will remember Alberto with love for his virtues, for his courage, for his passion, for his daring, for his bravery" concluded Wolf.