Cristina Fernandez defends the Kirchner legacy and warns her December successor
Monday, March 2nd 2015 - 06:44 UTC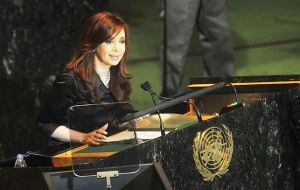 In her usual fiery style Argentine president Cristina Fernandez on Sunday addressing Congress lashed out at the Judicial branch, questioned the political use of the AMIA bombing, for the first time openly referred to the Nisman case, and underlined that Argentina is no longer 'in the red'. She ended with a veiled warning to whoever succeeds her following on October's presidential election.

As every March first, the Argentine Executive formally opened the congressional period and on this occasion Cristina Fernandez also gave her last state of the nation speech since next 10 December she will be stepping down after eight years as president.

As expected the president made a long presentation (over three hours and a half) with stats and numbers of the social, financial and economic achievements of her presidencies, highlighting first Argentina's national debt re-negotiation, saying Kirchnerism has made a historic accomplishment in the matter.

"We have finally gotten the Republic out of the red. No longer will an Argentine government have to take debt to pay debt. If we decide to take debt, it can be for infrastructure works," she explained.

"In fact, we are the only country whose debt has been reduced to negative values," she added citing a report by McKinsey international consulting.

The government's "fight" against (holdouts) "vulture funds" has been fundamental in this administration's policy towards national debt restructuring, said the president, while warning some opposition representatives have sided with hedge funds and tried to "jam" the government's intentions.

All in all, the President stressed Argentina's international debt in dollars will drop progressively until 2033, and said federal debt with the private sector represents only 9.7% of the GDP. She also highlighted the Central Bank's reserves reached 31.4 billion dollars last Friday.

"Some people tried to make us think everything was going badly. And we had a great challenge in keeping our public policies in that scenario. But we made it through the crisis," she insisted.

Further on Cristina Fernandez talked about the re-industrialization of Argentina, a government policy from day one and announced she will be sending three bills to boost the country's industrial activity.

"We decided to reindustrialize the country from day one. And thanks to active public policies we managed to keep industrial based employment through an international crisis."

Of the three projects one will protect Argentine licenses and industrial design, another will encourage private sector financing, and the last one will give the National Program for Industrial Park development law status.

"Don't fabricate spooks," the President told opposition media. "This government will not take a single measure that negatively affects jobs and businesses," she added. "If businesses fall, workers are harmed. It's not that we are good to businessmen, but we need them as an indissoluble part of our industrial project. Let on businessman suffer, we are not going to send any bill that hurts them."

The president then remembered the nationalization of Aerolineas Argentinas in 2008, saying the company was bankrupt but under the State's intervention it increased flight frequency by 102%, tickets sold by 80% and revenue by 71%.

"But no member of the judicial branch summoned someone from Marsans [the Spanish company that owned AA]. They called Julio Alak [Justice Minister] instead," CFK said, questioning federal judges, who have recently engaged in an ongoing battle with the government.

"The Judicial Party has lately parted from the Constitution and is trying to substitute both the Executive and the Legislative branch, which have been voted by the people," she lashed out.

Cristina Fernandez then referred to the AMIA case investigation, which has been in the center of local and international politics again since the death of AMIA special prosecutor Alberto Nisman, who accused the President of covering-up Iran's role in the atrocious attack.

"I have been talking about AMIA since 1994," she said, making a reference to the date of the bombing and also answering to opposition leaders who questioned her for not addressing the subject since the death of the prosecutor.

"I will continue speaking about AMIA at the UN, claiming for justice. The case has been diverted by intelligence services. It's been 21 years and we have no one charged, no one in jail."

"If there are delays in the case, look other way, not here."

The president also added that it's significantly strange that Israel has always claimed about AMIA and not about their embassy in Buenos Aires which was blown to pieces in 1992. She also demanded that Israel allow former ambassador Yitzak Aviran to give testimony in Argentina following on his statements that "Israel had made justice with those responsible for the attack".

The President then addressed late prosecutor Nisman's complaint, dismissing it while mentioning the decision of judge Rafecas to throw it out due to lack of evidence.

Cristina Fernandez expressed condolences to Nisman's family saying she feels sorry for his death as she would feel sorry for "anyone's death", and mentioned two documents found in a safe that belonged to the late prosecutor that prove him wrong.

"These two documents are signed by Nisman and directly contradict his complaint. He acknowledged this administrations' will to find justice, refuting his latter cover-up theory."

Cristina Fernandez used the example to illustrate her government's commitment to justice and memory, recalling human rights achievements and concluded with a warning to whoever may win the upcoming October presidential elections.

Quoting from a newspaper headline which forecasted that whoever succeeds her won't receive an 'easy country', Cristina Fernandez said, "it's true it won't be easy for the leaders, it will be easy for the people"

"You will not have it easy, especially if you try to take back from the people the rights conquered during these years" she underscored.