Paraguay and Uruguay ministers to discuss recovering paralyzed Mercosur
Monday, April 27th 2015 - 22:48 UTC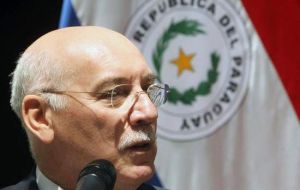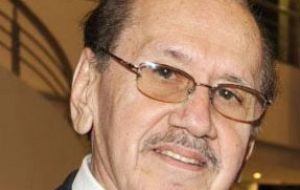 Following on the lead of Uruguay's new government, Paraguay has also demanded Mercosur returns to its roots and original objective with free circulation of goods and no obstructions of any kind or impediments such as tariff barriers. The five countries group has been paralyzed and negotiations for an encompassing cooperation and trade agreement with the European Union remain stalled.
"We must coordinate policies that hopefully return Mercosur to its original objective and the reason for its creation, which was an important geographic space, with free circulation of goods, with no obstructions or tariff or semi-tariff barriers, mainly those referred to intra trade", said Paraguay's foreign minister Eladio Loizaga.
The official statement comes ahead of his Uruguayan peer Rodolfo Nin Novoa, visit to Paraguay on Tuesday, who since the government of Tabare Vazquez took office last March in Montevideo has strongly demanded Mercosur gets back on its tracks and admits its mistakes, to ensure it can fully integrate to the world, and not end isolated from the main trade flows.
Uruguay is keen on having Mercosur make more flexible the clause that impedes member countries sign agreements with third parties, unless there is a unanimous support. This means Argentina or Brazil by not supporting can stop such a move.
Apparently Loizaga is of the idea that the World Trade Organization agreement on facilitating trade be incorporated in the framework of Mercosur thus helping to promote trade and competitiveness.
Loizaga mentioned that the European Union also has its problems in reaching an agreement with Mercosur, since the "tariff-reduction proposals" to be exchanged are still pending because Europeans are discussing about some sensitive products.
"We're waiting for their proposals; the EU are holding discussions on their final proposal because of some very sensitive products, but hopefully this can be overcome during the first half of this year", said the Paraguayan minister.
A former Paraguayan foreign minister and currently advisor on trade issues, said that it is evident Mercosur can't advance when its major partners, "Argentina and Brazil are experiencing great difficulties", which helps to understand why the trade accord with the European Union had remained stalled for sixteen years.
"Mercosur is facing great difficulties. If the large partners have difficulties obviously the group can't advance, can't function and we must work to rescue Mercosur so it recovers", said Jose A Moreno Ruffinelli.
The former minister also regretted that the block made up of Argentina, Brazil, Paraguay, Uruguay and Venezuela has been unable to sign the so called macroeconomic convergence agreement at Central banks' level. "An initiative that will help avoid the currencies devaluation situation, but we have been talking about the issue since the foundation of Mercosur back in 1991 to no avail".
Ruffinelli finally recalled that EU and Mercosur negotiations seem to be in a dead-end alley, as was described by the European Trade Commissioner Cecilia Malmstrom who recently visited Paraguay.
"Despite the willingness from both sides to seriously address negotiations, the proposals on tariff reductions from the two sides regarding services, goods, investments and government appropriations remain in a limbo, because of strong sector interests", concluded Ruffinelli.