Pope tells Putin "a sincere and great effort" was needed for peace in Ukraine
Friday, June 12th 2015 - 05:24 UTC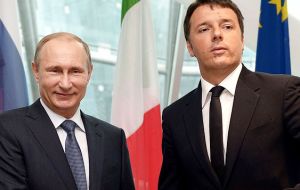 Barely a few days after Europe's most powerful leaders presented a common front on Russian sanctions; President Vladimir V. Putin of Russia landed in Italy and met privately with Pope Francis at the Vatican, his second audience with the pope in the past 18 months.
They met for 50 minutes and discussed the conflicts in Ukraine and in the Middle East. Vatican officials said Francis told Mr. Putin that "a sincere and great effort" was needed to achieve peace and called for all parties to comply with the Minsk accords.
Russian-backed separatists have been battling Ukrainian troops since the annexation of Crimea by Moscow last year. Francis asked that Mr. Putin help guarantee access to humanitarian aid groups in the region.
Mr. Putin has always found a comfort zone in Italy, which has important trade and energy ties to Russia. He began his day in Milan, where he toured Russia's exhibition at Expo Milano 2015, the world's fair, and also met with Prime Minister Matteo Renzi. Later, he flew to Rome for the early-evening meeting with Francis
At a news conference in Milan on Wednesday, Mr. Putin criticized the European sanctions against Russia, saying that Italian companies had unfairly suffered, with defense contracts worth 1 billion Euros now frozen. He also contested European claims that Russia had deliberately violated the Minsk agreements, instead blaming the Ukrainian government for not upholding the deal.
"Unfortunately, the Minsk agreements are not being implemented fully, only selectively," Mr. Putin said.
At the Vatican, Mr. Putin and Francis also discussed the persecution of Christians in the Middle East, particularly in Syria, an issue of mutual concern.
The European Union instituted economic sanctions against Russia last summer, as a response to its annexation of Crimea. Sanctions have expanded as European and American officials have blamed Mr. Putin for deliberately stoking instability by sending Russian troops into eastern Ukraine.
At a two-day summit meeting in Germany that ended Monday, leaders of the Group of 7 industrialized nations reaffirmed their support for sanctions, as President Obama praised European resolve and called for even tougher measures if Mr. Putin did not abide by the terms of the cease-fire. European leaders are expected to formally renew sanctions at a meeting later this month.
But support for sanctions has weakened in many European countries, including Italy, and Putin has sought to exploit the political divisions and nurture bilateral alliances, especially with countries on Europe's periphery. He is talking with Greece about a partnership on a gas pipeline running through Turkey while he exerts influence in countries like Hungary, where he has been linked to far-right parties.
In Italy, Mr. Renzi has pursued a balancing act. Italy's economy, already struggling, has suffered from reciprocal sanctions invoked by Russia against Europe. One study estimated that Italy would lose 3.7 billion Euros in exports to Russia from 2014 to this year. In March, Mr. Renzi made an official visit to Moscow, becoming the first major European leader to do so since the Crimea annexation, though he also visited Kiev on the same trip and met with President Petro O. Poroshenko of Ukraine.
In Milan, Mr. Renzi described Russia as an important player in the fight against global terrorism and called for strict adherence to the Minsk agreements. At the welcoming ceremony, Mr. Renzi also alluded to the European standoff with Russia, citing the "difficult international situation, not just on account of issues that do not unite us, but also for issues that should see us ever more on the same side in a very complicated international scenario, starting with the global threat of terrorism."