Petrobras strikes further discovery at giant pre-salt Libra field in Santos basin
Friday, October 16th 2015 - 07:35 UTC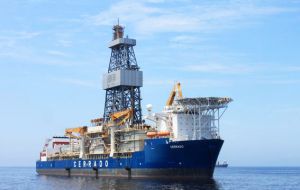 Petrobras announced a further hydrocarbon discovery at the giant pre-salt Libra field in the Santos basin, offshore Brazil. The company said that well 3-BRSA-1310-RJS, in the central portion of the block, identified the presence of hydrocarbons in a low-porosity reservoir. This is the fourth well drilled in the Libra area since exploratory drilling began last August.
Two other wells have also been drilled on the prospect; the 3-RJS-739A well, in the northwest; and the 3-RJS-741 well, in the North, where drilling has just begun. In the 3-RJS-739A well, Petrobras reports carbonate reservoirs with oil have been found. The well is currently undergoing coring operations.
The first exploration well, 3-RJS-731, was spud by the Schahin Cerrado drillship in August 2014, just 5km southwest of the discovery well 2-ANP-2A-RJS. Petrobras later confirmed in October of that year that the well had found good quality oil in the north western portion of the structure.
The Libra field, discovered in 2010, covers about 1500sq km and contains between 8-12 billion boe, according to Brazil's national petroleum agency, ANP.
In June, Technip was awarded the contract to provide detailed engineering and procurement services for the topsides of what will become a floating production and offloading (FPSO) for the field.
The FPSO, which will be a conversion from a shuttle tanker, is being converted at Jurong Shipyard, Singapore, under a contract with Deltamarin. Once complete, it will be moored in about 2500m water depth in Brazil's Santos Basin, 204km offshore Rio de Janeiro. It will have a capacity of 50,000 boe/d and 4 MMcm/d natural gas.
The Libra field is operated by a consortium comprised of Petrobras (operator, 40%), Shell (20%), Total (20%), CNPC (10%), CNOOC (10%) and PPSA (as contract manager).