Argentina announced Malvinas basin huge gas prospect off Patagonia
Monday, October 26th 2015 - 05:34 UTC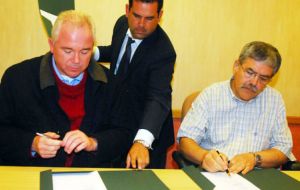 Argentina' Energy company, Enarsa, in association with Venezuela's PDVSA, allegedly has detected very positive natural gas deposits off the Patagonia coast, which according to reports in the Buenos Aires press could be equivalent a third of the country's reserves.
Government financed Pagina 12 reported on Sunday that the 3D seismic surveying in the Calamar block from Malvinas basin, off the provinces of Santa Cruz and Chubut apparently have located gas reserves of 3.63 TCF (trillion cubic feet).
"The seismic data collected showed that it is a basin with high prospects", said geologist Alfredo Prelat, coordinator of Enarsa offshore activities, quoted by Pagina 12.
However further on it points out that to test whether the potential gas reserves are commercially viable, three exploratory wells would have to be drilled, which are billed at 30 million dollars.
Allegedly the are to be drilled is 200 kilometers offshores.
The report goes on to say that before the drilling chapter, Enarsa will have to agree with PDVSA, on costs and how to share the possible benefits if the prospect become commercially viable.
The current joint exploration between the two state companies is the result of a memorandum signed by Argentina and Venezuela in 2005, for cooperation in hydrocarbons' exploration and exploitation
The 3D seismic surveying was done by France's CGG, Compagnie Générale de Géophysique, which raked the coast of Santa Cruz and Chubut from December 2014 to January 2015 with the Oceanic Champion.