Cristina Fernandez cancels trip to G20 summit and joins Scioli's presidential campaign
Monday, November 9th 2015 - 07:41 UTC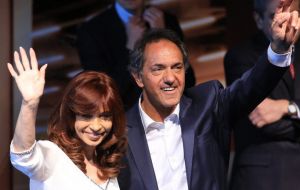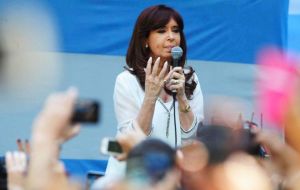 Argentina president Cristina Fernandez has suspended her attendance to the G20 summit in Turkey to campaign for the incumbent presidential candidate, Daniel Scioli, ahead of the 22 November runoff, when he confronts opposition hopeful Mauricio Macri, the big surprise of the electoral dispute.
The announcement was made Sunday morning, which means the Argentine delegation to the G20 summit will be headed by Economy minister Axel Kicillof and Foreign minister Hector Timerman. The summit is scheduled to take place 15/16 November in the tourist resort of Belek, in Antalaya.

Last week Cristina Fernández fully joined the electoral campaign with strong criticisms to the opposition candidate calling on voters to pick between two models for Argentina, and reappearing with Victory Front (FpV) hopeful Daniel Scioli as he campaigns hard to replace her at Government House.
The president addressed the upcoming runoff by associating Macri with the political and economic turmoil unleashed at the end of 2001. Without naming the 'Let's Change candidate', the president recalled that a former Buenos Aires City mayor "became president in 1999 and in 2001 he left on a helicopter, leaving bodies in Plaza de Mayo and the country on its head."
Cristina Fernandez also rejected that the FpV was behind any kind of smear campaigns, arguing that she has been the recipient of many attacks from the media for being a woman. "I have been the target of gutter campaigns since taking office, look at the front pages of the past six months".
The president went on to say that much in the same way that Scioli has spoken about "unmasking" Let's Change policy proposals, the president denied that the FpV has been trying to smear its rivals.
"When we repeat what some leaders say, that's not a smear campaign but rather we are making a cleaner and more transparent campaign for people to know what country they will vote for. We recall what they have done and what they said," she insisted, later introducing video footage showing statements by an opposition economist, who recently expressed negative comments about having Argentina electing presidents from its northern and southern provinces.
"Is this an economic idea? No. Is this a new idea? Also no, it is older than injustice. It is more than 200 years old, this is the idea of the port, that is an idea held by a small minority that considers itself as an illustrious elite in the face of the barbarism of the provinces.
"This has to do with a project for the country. We have to debate ideas, what kind of country we want to live in," stressed Cristina Fernandez.