Infantino will lead UEFA's Euro 2016 draw in Paris; Platini's 90 day ban stands
Saturday, December 12th 2015 - 04:09 UTC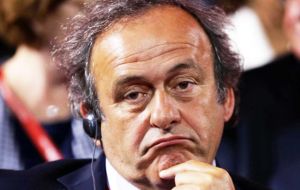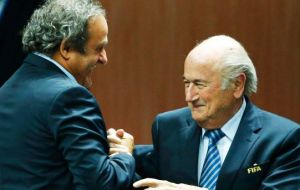 Michel Platini cannot take part in UEFA's Euro 2016 draw in Paris on Saturday after losing his appeal against a 90-day FIFA ban at the Court of Arbitration for Sport (CAS). The decision Friday means he also won't be able to participate in the UEFA Executive Committee meeting before the draw.
CAS said that "maintaining the provisional suspension for the remainder of the 90 days does not cause irreparable harm to Michel Platini at this point in time".
Platini and Sepp Blatter could be served with lifetime bans after ethics hearings next week over allegations that a $2 million illegal payment was made to the Frenchman in 2011 for his work as an advisor to the Swiss between 1998 and 2002. FIFA's ethics committee is expected to rule on the cases before Christmas. Both men deny any wrongdoing.
Platini and his lawyers took the appeal to the 90-day ban to CAS in Lausanne on Tuesday. "I hate injustice and I hope I have been understood," the suspended UEFA president told a group of reporters outside the headquarters of sport's highest court.
He was desperate to participate in the Euro 2016 draw and to try and resume his FIFA presidential campaign.
CAS said on Friday that FIFA's legal team had offered assurances expressed earlier that the FIFA Ethics Committee would render its final decision on the "disloyal payment" to Blatter case on or before 5 January when his provisional band was due to expire.
"The CAS panel also emphasized that, even if the ban were lifted at this time, such measure would not give any guarantee to Michel Platini that the FIFA ad hoc electoral committee would validate his candidature for the FIFA presidential election before 5 January 2016," CAS said in a statement.
But FIFA was ordered not to extend Platini's ban by 45 days, which was always a possibility under ethics regulations.
The three-man CAS panel said that such an extension "would constitute an undue and unjustified restriction of Michel Platini's right of access to justice, cause irreparable harm to him and also tip the balance of interest test in his favor".
In a statement, FIFA noted the CAS decision "has ratified the proceedings of the independent ethics committee" which served Platini with the 90-day ban on Oct. 7.
"The proceedings are still ongoing at the adjudicatory chamber of the Ethics Committee, which, after careful consideration of the report, decided to institute formal proceedings against Platini on 23 November 2015. The adjudicatory chamber has stated that it intends to come to a decision during the month of December," FIFA said.
Friday's ruling means that UEFA secretary general Gianni Infantino will lead the Euro 2016 draw ceremony in Paris. Infantino is also one of the five FIFA candidates vying to replace outgoing Sepp Blatter in the presidential election in Zurich on 26 February.