UK ambassador participates in academic forum on climate change in Chile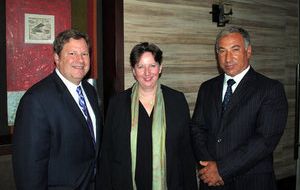 British Ambassador Fiona Clouder and United States Ambassador Michael Hammer participated in the event "Sustainable Investment" last week organized by the Corporate Leaders Group on climate change (CLG Chile) in conjunction with the Faculty of Business and Economics from the University of Chile and the Harvard Law School.
In his opening words, Dieter Linneberg, Executive Director of the CLG Chile, emphasized that "today businesses must take advantage of preventing risks and making structural changes that are needed to combat climate change. Making these changes should be seen as a great opportunity rather than an additional cost".
During her presentation, Ambassador Fiona Clouder commented on the British experience within the economic, political and social developments related to climate change. She also called on all actors, both public and private, to make concrete actions that will lower carbon emissions and protect the planet.
"In the UK, we already have a clear long-term approach. We have a legally-binding 80% emissions reduction target for 2050 and legislation -the Climate Change Act – which introduces five year carbon budgets, set 12 years in advance. This system allows us the flexibility to keep costs low while giving long term certainty to business."
Ambassador Fiona Clouder added that through the participation of initiatives like the CLG Chile, governments can have the opportunity to add actions aimed at providing long term solutions. In her final remarks she noted, "tonight's event is a great example of how we can encourage more members of the private sector to participate in dialogues, collective actions and networks that will support a more sustainable and low carbon future for Chile and the world."
United States Ambassador Michael Hammer also stressed that efforts to combat climate change should be shared by public as well as private actors. His speech was followed by a presentation from Professor Hal. S. Scott, Director of the Program on International Financial Systems (PIFS) at Harvard Law School who provided insights regarding the US regulatory environment for sustainable investment and its implications for Chile and the Region.