Singer praises Macri and calls him a great 'reformist' in a Time weekly column
Friday, April 22nd 2016 - 07:48 UTC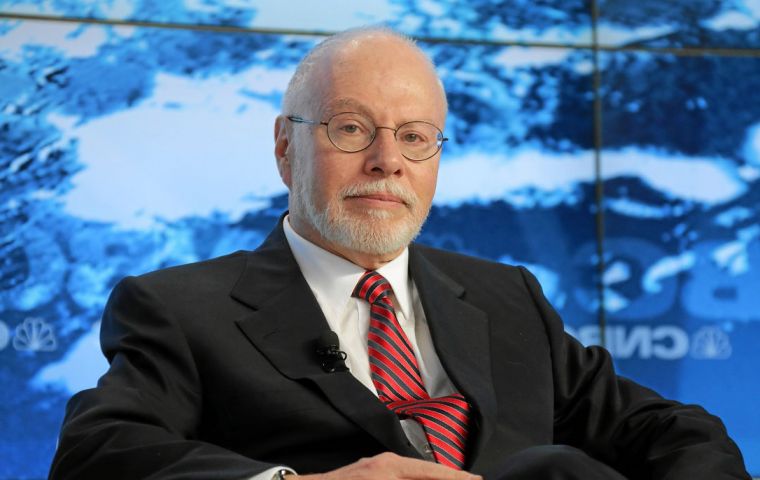 United States hedge fund billionaire Paul Singer is a big fan of Argentina's new president. For one thing, Mauricio Macri doesn't call him a "vulture lord" or a "bloodsucker," as his predecessor Cristina Fernández did. More important, the newly elected Macri recently paid Singer's firm US$2.28 billion in debt.
So Singer, founder and president of Elliott Management Corp., isn't what you'd call a neutral party with regard to Macri's presidency. Still, Time magazine chose Singer to write a fawning piece on the Argentine leader, who took office in December, which was published on Thursday among the publication's "Top 100 Leaders."
The disclosure at the bottom of the article notes that Singer "has been involved in debt negotiations with the Argentine government for several years." It makes no mention of the milestone deal between the Macri government and Elliott Management reached earlier this year, nor the $2.28 billion figure, which represents 369% of the original sum lent to Argentina, Bloomberg reported.
All readers get is a glowing report card for Macri: "Over the past decade, the policies of Argentina's ruling duo, Nestor and Cristina Fernandez de Kirchner, led to rampant inflation, falling currency value and capital flight," wrote Singer of his financial nemeses. "The result was the 2015 election of the reformist Mauricio Macri."
"Reformist" is one way to put it. President Barack Obama has certainly praised Macri for aiming to "reconnect Argentina with the global economy" with his free-trade policies, a neoliberal cause célèbre at the White House.
Others call Marci's new center-right brand a recent invention meant to disguise his right-wing politics: His pick for vice president opposed gay marriage, while Marci himself has said he opposes abortion and decriminalizing recreational drugs such as cannabis, BBC reported.