Peruvian First Lady charged with money laundering for electoral campaigns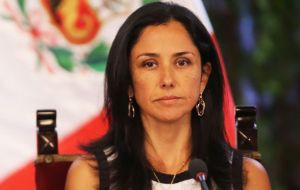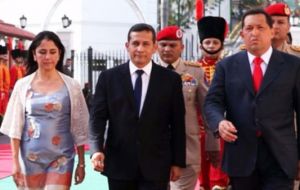 Judge Richard Concepcion ordered Peru's first lady and the president of the ruling Nationalist Party, Nadine Heredia, not to leave the country in order to answer charges of suspected money laundering in the electoral campaigns of 2006 and 2011.
The judge also ordered Heredia, her brother Ilan Heredia and her friend Rocio Calderon, also under investigation, to sign into the court every month and to pay a bond of 50,000 soles (some US$15,000), while barring them from any change in their place of residence. Their attorney appealed Judge Concepcion's decision.
During the extensive hearing last week, the judge announced charges against Heredia, including the possibility that she received money from Venezuela's late ex-President Hugo Chavez for Ollanta Humala's electoral campaign in 2006, and from the Brazilian companies Odebrecht and OAS, proceeds from suspected acts of corruption which were then used for the 2011 campaign with the aid of former campaign consultant Martin Belaunde Lossio, also on trial.
At the same time, the Attorney General's Office accused the wife of Peruvian President Ollanta Humala of having increased her wealth from an illicit source for the purchase of a $160,000 property in Lima along with an SUV.
He also charged her with founding three companies with family and friends to obtain government contracts and of having kept part of the money from an illicit source to finance the electoral campaigns of 2006 and 2011.
Meanwhile, the Peruvian Congress passed last Wednesday a request that Humala be included in the investigation against Heredia based on the information contained in those accusations.