Mercosur insists in trade negotiations with EU despite Brazil and Venezuela situations
Friday, September 9th 2016 - 10:09 UTC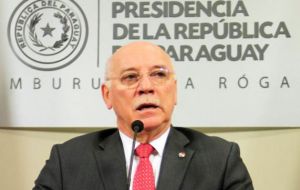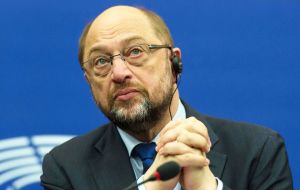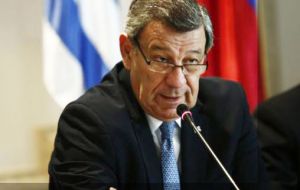 Negotiations for a trade and cooperation agreement between Mercosur and the European Union must continue and should not be overshadowed by political issues such as the impeachment process in Brazil, pointed out Paraguay's foreign minister Eladio Loizaga, following a motion by 15 Green Euro and United Left parliamentarians in Strasbourg to cancel discussions because of the "corruption contaminated" removal of Dilma Rousseff.
"The initiative is clearly political and should not interfere with negotiations for an agreement which the two blocks started discussing in 1999" , added Loizaga. He pointed out that a majority of the European parliament, "as we have been informed" are committed for negotiations to continue.
Loizaga recalled that the founding members of Mercosur fully respect the institutional process in Brazil, implemented in the framework of the Constitution and the rule of the law with all guarantees.
The minister also indicated that since Mercosur is currently with no pro tempore rotating presidency, it is under the helm of national coordinators named by each country, and "they are making sure that the block continues to function normally including the negotiations with the European Union".
Loizaga recalled that the president of the European Parliament Martin Schultz recently visited Argentina and Uruguay and lobbied strongly for an agreement with Mercosur arguing that after twenty years of discussions it was time to sign and begin working together.
However Schultz also admitted that the EU must decide on what agreement it wants to reach with Mercosur, some countries object the inclusion of agriculture, and the South American block must overcome the situation caused by the lack of consensus on Venezuela and its self appointed presidency.
From Montevideo, foreign minister Rodolfo Nin Novoa said that Uruguay is determined to overcome the current "paralysis of Mercosur", triggered by the discrepancy over the Venezuelan presidency. "Our objective is to save Mercosur and we are implementing certain mechanisms such as national coordinators from the different country members, under supervision of foreign ministers, not necessarily to make decisions but to chart courses of action and above all ensure that the foreign agenda of Mercosur remains dynamic".
Another round of talks between EU and Mercosur representatives are scheduled to take place in October.
Nin Novoa mentioned that besides the European Union, Mercosur is holding talks with South Africa, India, China and other Asian countries on trade and cooperation issues. Besides these talks, Uruguay is expected to sign a trade understanding with Chile at the end of the month and is expanding the arch of opportunities of its trade agreement with Mexico. Brazil has also been invited by Portugal to advance in a bilateral accord while the EU/Mercosur moves along.