Venezuela suspended from Mercosur - Maduro's Foreign Minister says it did not happen
Saturday, December 3rd 2016 - 09:19 UTC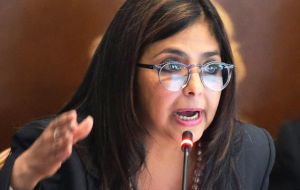 The founding Mercosur countries Friday suspended Venezuela from full membership of the free-trade bloc in view of its failure to adjust its domestic regulations to economic agreements and human rights and immigration guidelines and principles that are mandatory to all the other members.
The Argentine Foreign Ministry Friday issued a statement indicating that the ministers of Argentina, Brazil, Paraguay and Uruguay had informed the Nicolás Maduro administration that Venezuela had been stripped of its capacity to "exercise those rights inherent to a member state of Mercosur."
Argentina, Brazil, Paraguay and Uruguay adopted the measure, which Caracas considered to be "null" since it had called for activation of the bloc's conflict resolution mechanism for "aggression and harassment" against its pro tempore presidency of the bloc. Venezuelan Foreign Minister Delcy Rodríguez claimed her country was still in full exercise of the bloc's pro-tempore presidency taken over by Caracas in August, when Uruguay's term ended. A collegiate presidency is said to be now effective until a new pro-tempore president takes over. A new meeting will be held Tuesday in Montevideo to outline the future of Mercosur without Venezuela, while Brazil judged that Caracas will not return to the bloc in the short term and Uruguay said the decision could be appealed.
Rodríguez insisted Venezuela would continue to take part in Mercosur activities "with voice and vote rights in all meetings as a member State," because "Venezuela does not recognize this illegal act based on the Law of the Forest of officials who are destroying the Mercosur," said the diplomat, who complained that "certain media have spread the false notification of suspension, which does not exist," she added.
Venezuela, a member of Mercosur since 2012, had until Friday to pass several internal resolutions of the bloc. "Venezuela had four years to incorporate the current Mercosur regulations and was granted an additional term to honor its obligations, which ended on December 1, 2016, and the measure adopted will remain in force until the States Parties to the Treaty of Asunción agree with that country the conditions to restore the exercise of their rights as a State Party, "the statement said.
In Brazil, Foreign Minister José Serra did not elaborate on the issue, but confirmed the measure: "It had already been announced if it did not meet certain requirements, and it was," he said. Other Brazilian government sources warned that Venezuela's dismissal "probably will not be reversed in the short term."