Falklands' oil exploration: Rockhopper announces investments in Sea Lion
Wednesday, February 8th 2017 - 10:17 UTC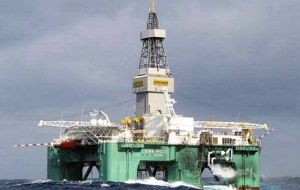 Rockhopper Exploration plc has provided its latest operational and corporate update which includes the North Falkland Basin Sea Lion project and has announced that the technical engineering is approaching conclusion and a settlement on the Eirik Raude rig dispute has been reached.
In effect, the front end engineering and design (FEED) process continues to make good progress with the technical engineering phase of FEED approaching conclusion. During 2017, the focus will shift to the commercial, fiscal and financing elements of the project. Engagement with Falkland Islands Government (FIG) on a range of operational, fiscal and regulatory matters is expected to continue through H1 2017.
Rockhopper also notes that the recent announcement by Premier Oil in relation to its proposed refinancing "will significantly enhance the discussions around the financing of the Sea Lion development".
Likewise as set out in Rockhoppers's interim results announcement on 14 September 2016, the operators of the 2015/16 North Falkland Basin exploration campaign entered into arbitration with Ocean Rig in relation to the termination of Eirik Raude rig. The Company can now confirm that a settlement has been reached between the operators and Ocean Rig.
As previously disclosed, Rockhopper's year-end 2016 cash balance was approximately US$80 million (unaudited). Adjusting the year-end cash position for Rockhopper's contribution to anticipated North Falkland Basin exploration campaign close out costs and the settlement with Ocean Rig, keeps Rockhopper's adjusted year-end cash balance in line with the Company's previous guidance of US$60-US$65 million. In addition to the year-end cash position, Rockhopper's Egyptian General Petroleum Corporation (EGPC) receivable balance as at 31 December was approximately $4 million.
The 2017 development, exploration and abandonment spend is expected to be approximately US$13 million, of which US$8 million relates to pre-development activities on Sea Lion, US$3 million to exploration and development activities in Egypt and US$2 million to abandonment costs. The abandonment spend principally relates to the decommissioning and removal of the Ombrina Mare tripod – the cost of which Rockhopper will seek to recover through an international arbitration process of which a further update will be provided shortly.
Following the retirement of Bob Peters from the Board effective 31 December 2016, Keith Lough, currently non-executive director and Chairman of the Audit and Risk Committee, has been appointed Senior Independent Director. In addition, the composition of the Board Committees has been reviewed such that each of the Audit and Risk Committee and the Remuneration Committee will now comprise: Tim Bushell, Keith Lough, John Martin and John Summers. Keith Lough remains Chairman of the Audit and Risk Committee and Tim Bushell remains Chairman of the Remuneration Committee.