Liberation Day Reception, London Gratitude for the Past, Hope for the Future
Thursday, June 15th 2017 - 11:15 UTC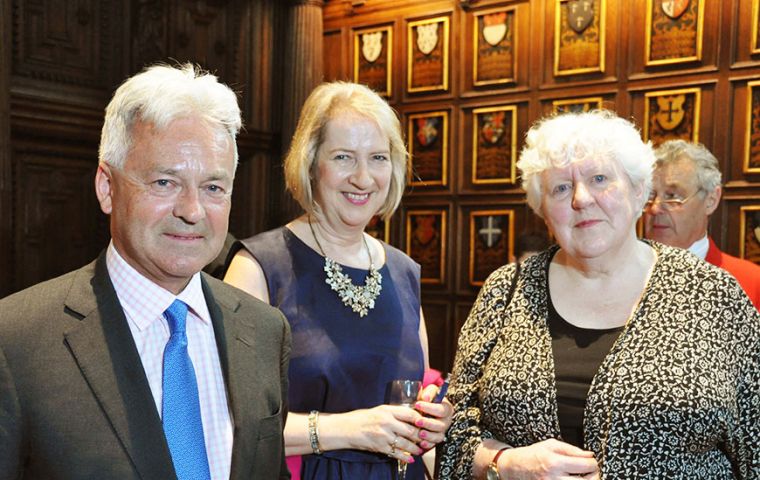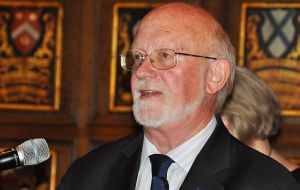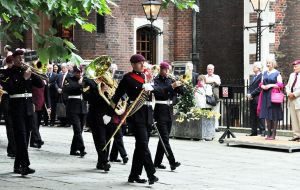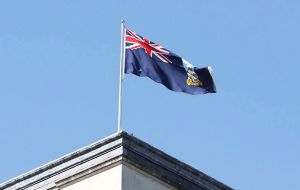 Falkland Islanders and their supporters met in London on the 13th of June for the annual Liberation Day Reception. This time it was special - it marked the 35th anniversary of the war. Guest of honour was Sir Alan Duncan, just re-appointed as Foreign Office Minister with responsibility for the Falklands; this was his first outside engagement.
He told the gathering that he had just done a broadcast for radio in the Falklands reflecting on the conflict with "gratitude and respect and enduring commitment". He then said: "We remember those who died - on both sides of the conflict. And we look forward to reconciliation wherever we can find it; but always while defending and respecting the sovereignty of the Islands – so long as that is your choice. So do not think that our commitment has in any way been diluted – quite the opposite".
Sir Alan went on to say: "We will work to build a better relationship with Argentina"…. "Some things were difficult, but it was worth the effort". He said it not only constructed better harmony with Argentina but also added to the long-term prospects of the Falklands. He ended wishing well to all those present, and raised his glass in a toast to those in the Falklands: "To the future of the Falklands Islands and your ever protected sovereignty, I wish you all well. The Falkland Islands".
Speaking for the Falkland Islands Government, long-serving member of the Legislature, Mrs Jan Cheek, paid tribute to Britain's Armed Forces. She said that in the Islands: "There will be a solemn and heartfelt commemoration of the events of 1982 remembering those who gave their lives or health for our Liberation. There will also be a celebration of the freedom and democracy we have enjoyed for the last 35 years".
She went on to say: "That freedom opened many doors for us after the war, in contrast to the stagnation and insecurity that preceded it". She reported that: "developments in fishing, farming and potentially oil in the last 30 plus years have been extraordinary"; that the business sector was thriving and many Islanders had now become entrepreneurs; and that they had "welcomed immigrants as well as returning Islanders to contribute to that growth and prosperity". She said that fishing remained the mainstay of the economy, and a sizeable portion of revenue from that was dedicated to fishery science to ensure its sustainability.
On the downside she mentioned that Argentina had been invited to resume cooperation on the exchange of fishery data to ensure sustainability for the wider South-West Atlantic, but so far to no avail. She also stated that in spite of early promise following trade talks last year, the Argentine sanctions and legislation aimed at hindering Falklands' trade and communications had not been lifted. She mentioned that "there are now uncertainties surrounding Brexit" too.
Above all, Mrs Cheek, emphasized that the Falklands greatest benefit had come from investment in education, and that beneficiaries of this "now hold important roles in the private and public sectors". She "felt especially privileged in recent years to work with many who have come through our system of funding further and higher education, and who have returned to put something back into their country".
Mrs Cheek paid tribute to the vital work of the Falkland Islands Government Office in London, led by Representative Sukey Cameron. Mrs Cheek said the Falklands had cross-party support, and she thanked all Falklands supporters.
Falkland Islands Association Chairman, former Governor Mr. Alan Huckle, proposed the loyal toast to the Queen. All those attending joined in. Many veterans were among them, including Lieutenant General Sir Hew Pike. He had led 3 PARA in the Falklands War in 1982, and he took the salute at the parade which followed. This was by the Band of the Parachute Regiment.
By Peter Pepper, London