Falklands' Swearing in Ceremony for Governor Phillips on 12 September
Saturday, September 2nd 2017 - 19:16 UTC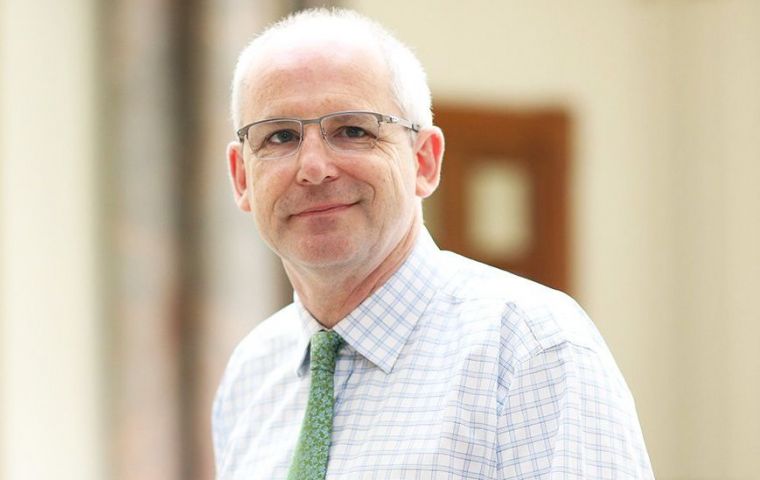 The Falkland Islands elected government, Gilbert House, has announced that the Swearing in Ceremony for the Governor Designate, Mr. Nigel Phillips CBE will take place in the Court and Assembly Chamber, Stanley, on Tuesday 12th September 2017 commencing at 09:00 hrs.
The ceremony will be followed by a parade at Victory Green. A Guard of Honor consisting of a tri-service detachment of Royal Navy, Army, and Royal Air Force and a detachment from the FIDF will form up at 09:50 hrs.
At 10.00 hrs the Governor will arrive and the inspection, parade and 17 gun-salute will commence. The Parade will end by 10:30 hrs.
Members of the public are cordially invited to observe the Parade.
Mr. Nigel Phillips CBE succeeds Mr. Colin Roberts CVO who left the Falklands in July to another Diplomatic Service appointment. The designate governor served in the RAF from 1984 until 2000, and has since then worked in a number of defense attaché roles in British Embassies.
Since 2016 Phillips has been at the UK Permanent Representation to the European Union, in Brussels, Deputy Military Representative. Between 2014 and 2016 he was head, Russian Strategic Studies/Wider Europe Policy and 2013/14 Member of Royal College of Defense Studies.