Indictment and preventive imprisonment of Cristina Fernandez confirmed by federal court
Saturday, December 23rd 2017 - 12:34 UTC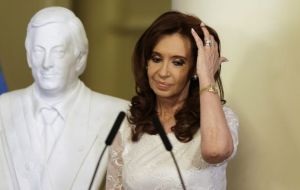 An Argentine Federal Court in Buenos Aires City confirmed the indictment and preventive imprisonment of ex president Cristina Fernandez, one of several defendants under investigation for the alleged cover up of the attack against a Jewish organization, by signing a memorandum of understanding with Teheran considered the culprit of the 1994 carnage which cost 85 lives and hundreds injured.
Magistrates Martin Irirzun and Eduardo Farah said the crimes involved include public nuisance, misuse of authority and aggravated cover up, but revoked treason.
The case refers to the controversial MoU which allegedly benefitted the Iranians suspected of participation in the AMIA attack. The ex president and several of her closes advisors and ministers allegedly were involved in the "criminal plan" to grant impunity to the Iranian officials perpetrators.
The magistrates said their ruling established a clear, indexed and univocal framework, which sufficiently corroborates the charges, and concludes that there was a closed group that was well aware of the details of the operation.
In effect the ruling was extensive to ex foreign minister Hector Timerman, ex legal counselor of the Executive Carlos Zannini, plus hoodlums on the Kirchner governments payroll and Iran lobbyists, Luis D'Elía and Fernando Esteche.
All of them had been indicted by Judge Bonadio, following on the charges presented by special prosecutor Alberto Nissman, before he was found dead. They are accused of conspiring to drop the international arrest warrants against the Iranian officials named as involved in the planning of the attack.
Nisman, his successor Gerardo Pollicita and Judge Bonadio believe the plan to lift the warrants was agreed following the signature of the MoU with Iran allowing a committee of international experts to review the evidence against the Iranians accused, while Interpol was informed that the requests were standing.
However Bonadio argued that the arrest warrants were only half strong, because next to the Interpol red alerts was a clause mentioning the implementation of the MoU. This was supported by the Federal Court.