Menem forecasts Peronism will rise from the ashes and be government in 2019
Wednesday, February 28th 2018 - 09:56 UTC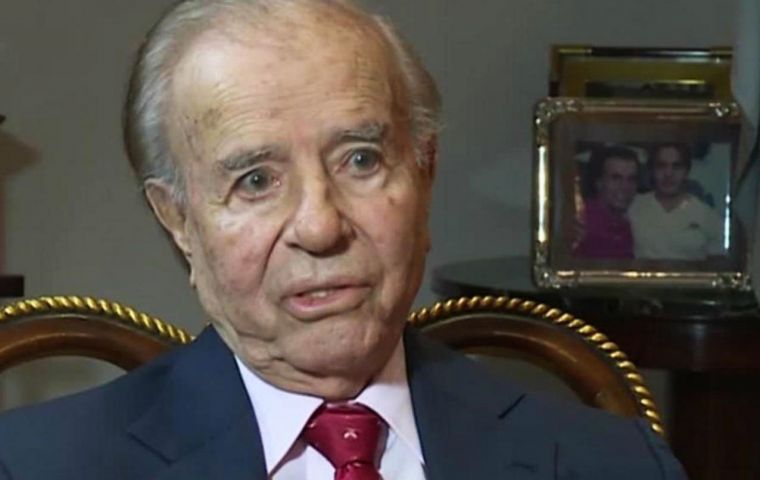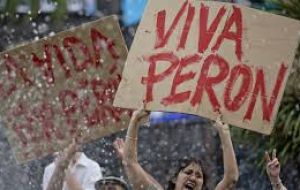 Former Argentine president Carlos Menem rated the government of Cristina Fernandez one, out of a scale of ten, and with a smile told a CNN interviewer that all Argentine governments had been exposed to corruption except his. He also anticipated that Peronism will "rise from the ashes" and return to government in 2019.
"Look where we are", said Menem in reference to Cristina Fernandez administrations, but also questioned the current Mauricio Macri government for being unable to lower inflation.
Menem admitted he had several trials pending and that in a couple of them he had been indicted but not sentenced, and insisted that despite his age, late eighties, his life is politics, until "my last day", and rejected that he has a Senate seat to avoid prosecution.
"I'm not taking advantage of my congressional privileges to avoid going to jail. They can investigate all they want, I was elected president, I was governor, what else was left for my political ambition but disputing a Senate bench?", argued Menem.
More specifically on the Macri administration the ex president said that "guided by what one reads, listens and studies, evidently we're not in a very good situation. We have serious problems which remain without solution, such as inflation".
But taking distance from Cristina Fernandez, despite her husband Nestor Kirchner once described Menem as "the best president ever in Argentina", he underlined he was a Peronist, and certainly not a Kirchnerite. "With her we didn't advance rather the contrary we went down and it caused us all great damage and pain".
Finally on Peronism the dominant force in Argentine politics, Menem commented, "everybody at different times have said that it was dead, but time after time it has risen from the ashes".
"I don't know how much longer I will live, but to the last of my days I will continue to be Peronist", and looking into the future he said he was optimistic about the political catch-all movement. "How many times have they killed it, but it rises and rises, as it is happening now, and in the coming elections (2019) Peronism will again be victorious".
Although he did not advance any name as the next leader of the currently atomized Peronism, he said the movement has "a great number of leaders". And, "when the moment comes, one is going to emerge who will lead the cause. This has happened not once, but hundreds of times. Peronism was announced dead, but it has elected senators and deputies, Peronism will never die". But he insisted Kirchenrism is not Peronism, it is something completely different, "look where it led us to".