Falkland Islanders react to Argentine Next of Kin Visit
Wednesday, April 4th 2018 - 08:04 UTC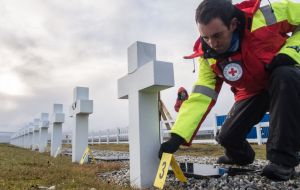 As Mercopress have covered, families of 90 unidentified soldiers visited the Falkland Islands from Argentina last week. They spent the day at the Argentine military cemetery at Darwin and paid respects to their sons, brothers and partners whose remains were recently identified after a lengthy DNA process administered by the International Committee of the Red Cross.

They did not visit Stanley and the day is said to have gone very smoothly by those tasked with supporting the visit.

Throughout this process the Falkland Islands Government have actively allowed for and facilitated the work, seeing it through purely humanitarian terms. In a press release they referred to it as a "significant event" and one which should help build "goodwill".

The local community have also been found to be generally supportive of the initiative, seeing it in the same terms. Local resident Miss Lisa Pole-Evans told Mercopress that she "believed it to be a good thing" and that it was "a long time coming for the poor families who have had to wait for so many years". This was echoed by other residents asked, one saying that such events "have nothing to do with politics and should only be about the families involved".

Yve Middleton, another Falkland Islander, stated on social media that "..the majority of those killed had little choice but to follow orders and their final resting place should be respected in the same way we respect the British fallen soldiers".

However, there remains frustration in some parts of the community at the pace of progress around potential repatriation of remains to Argentina for those families who wish it, now that their loved ones have been identified. It is argued that such a move should not be politicised and should be left to the individual choice of the families involved.

The Falkland Islands Government have expressed such a sentiment previously, and residents of the Islands echoed this when asked over recent days, with one saying to Mercopress that she "hoped that such a choice would be offered to the families and that no government of any colour unnecessarily involve itself in this decision".

Now that the Argentine next of kin visit has occurred, it is understood that the longer-term management of the cemetery is currently being finalised by the Families Commission. Local contractors have assisted with the management and upkeep of the site in the past and it is believed that that will continue into the future, though perhaps under more formalized arrangements.