Russia has ended its help in search for the missing Argentine sub ARA San Juan
Thursday, April 5th 2018 - 08:33 UTC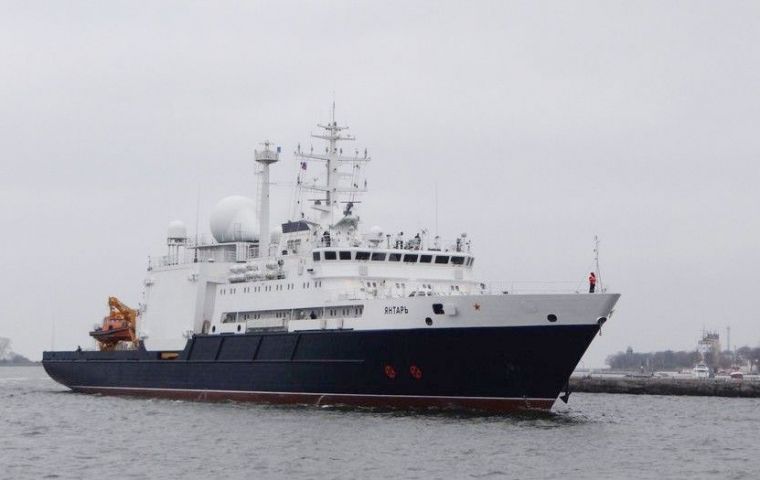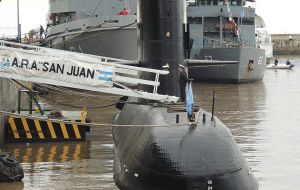 The Argentine Navy has confirmed that Russia has ended its help in the search for the missing ARA San Juan submarine that disappeared in the South Atlantic with 44 crew-members aboard in November.
Russia was the last of more than a dozen foreign countries that assisted in searching a sea area of some 4,000 square kilometers for the ARA San Juan. The multinational search for the submarine employed some of the latest technology in one of the largest efforts of its kind.
An explosion occurred near the time and place where the sub went missing on November 15. Argentina has given up hope of finding survivors, but the Navy has continued searching for the vessel.
Argentine Navy spokesman Enrique Balbi confirmed the end of Russia's collaboration late Tuesday night. He said that local ship Islas Malvinas will carry on with the search.
The Russian vessel most recently involved in the search was the oceanographic ship Yantar. Balbi confirmed that the ship will return to the port of Buenos Aires on April 7.
"We were told the ship would head for Uruguay and would then call into Buenos Aires, but that it wouldn't return to the search area," a sister a missing crew-member told local state news agency Télam.
Families of the crew gathered outside the Russian Embassy in Buenos Aires earlier this year asking Russia to continue searching for their loved ones with ships that carry remotely operated vehicles capable of deep seafloor searches.
"The Russians have withdrawn ... and the Argentine ships don't have the technology to find it," Luis Tagliapietra, the father of 27-year-old crew member Alejandro Tagliapietra.
Tagliapietra has joined a judicial investigation into the submarine's disappearance as a plaintiff. He said that other relatives of the crew are also asking Argentina's government to hire a US private company to carry on with the search.
President Mauricio Macri has vowed a full investigation and offered a US$5-million reward for information to find the vessel. But relatives of the crew say it's not enough.
"Our government is spinning its wheels," Tagliapietra said. "We're in a state of apathy."
The San Juan, a German-built TR-1700 class submarine, vanished as it was sailing from the southernmost port of Ushuaia to Mar del Plata after a patrol.
The navy says that the captain reported on Nov. 15 that water entered the snorkel and caused one of the sub's batteries to short-circuit. The captain later communicated that it had been contained.
Some hours later, an explosion was detected near the time and place where the sub was last heard from. The navy says the blast could have been caused by a "concentration of hydrogen" triggered by the battery problem reported by the captain.