Lula negotiating his surrender following a Saturday mass for his deceased wife
Saturday, April 7th 2018 - 08:19 UTC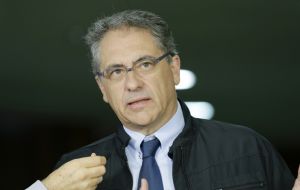 Ex-president Luiz Inacio Lula da Silva, Brazil's polarizing election frontrunner and leftist icon, was negotiating his surrender after dramatically skipping a first deadline Friday to start his 12-year prison sentence for corruption.
Holed up with thousands of cheering supporters in the metalworkers' union building in his hometown of Sao Bernardo do Campo, near Sao Paulo, the 72-year-old let the 5:00 pm (2000 GMT) deadline pass without public comment.
This raised the temperature in the standoff between the leftist former two-term president and Judge Sergio Moro, who heads the mammoth "Car Wash" anti-graft probe and who ordered Lula's imprisonment.
Given that Lula was effectively surrounded by a human shield, it was clear that a forcible arrest attempt would trigger violence.
But authorities took pains to reduce tensions, downplaying Lula's defiance and stressing that he was not considered a fugitive, something that would trigger a preventative arrest warrant.
"Lula did not comply with a judicial order," a spokesman for Moro said, "but everyone knows where he is. He's not hiding or on the run."
Politicians from Lula's Workers Party said he would remain in Sao Bernardo do Campo overnight and that his lawyers were in close negotiations with police over the time and place of the arrest.
"There is a discussion between police and the ex-president's lawyers and the party is following this. The idea is to avoid the judge ordering preventative arrest, which would aggravate the situation," said Congressman Carlos Zarattini.
"Nothing is over yet."
Chairperson of the PT Senator Gleisi Hoffmann tweeted that a Catholic Mass would take place at the union building early Saturday in memory of Lula's late wife Marisa Leticia, who died last year and would now be turning 68.
According to varying Brazilian media reports, Lula was considering surrendering after the Mass or possibly holding out through the weekend.
Much of Friday, Lula waited in hope that the country's top appeals court, the Superior Tribunal of Justice, would temporarily suspend his arrest warrant. However, the petition was rejected shortly before the deadline expired. Yet another appeal for an injunction against the arrest was filed late Friday with the Supreme Court.
On Thursday, Moro had given Lula 24 hours to surrender voluntarily to police and begin incarceration in the southern city of Curitiba. Moro said the cell, a separate room with its own toilet, was ready, and that Lula would not be handcuffed -- if he came quietly.
Lula was convicted last year of taking a luxury apartment as a kickback from a big construction company. He lost a lower court appeal in January and saw his sentence increased from nine to 12 years.
To his Workers' Party faithful, Lula is a victim of an out-of-control judiciary preventing him from returning to power.
However, Lula's imminent arrest is being celebrated by many Brazilians.
The "Car Wash" probe, which has revealed systemic, high-level embezzlement and bribery throughout business and politics over the last four years, is wildly popular.
Detractors say that Lula epitomizes Brazil's corruption-riddled elite and his conviction is the biggest "Car Wash" scalp by far.
Operation "Car Wash" was named after the service station where agents initially investigated a minor money laundering scheme in 2014, before realizing that they'd stumbled on a gargantuan web of embezzlement and bribery at state oil company Petrobras and right through the political establishment.