HMS Protector expected in Buenos Aires
Tuesday, April 10th 2018 - 07:27 UTC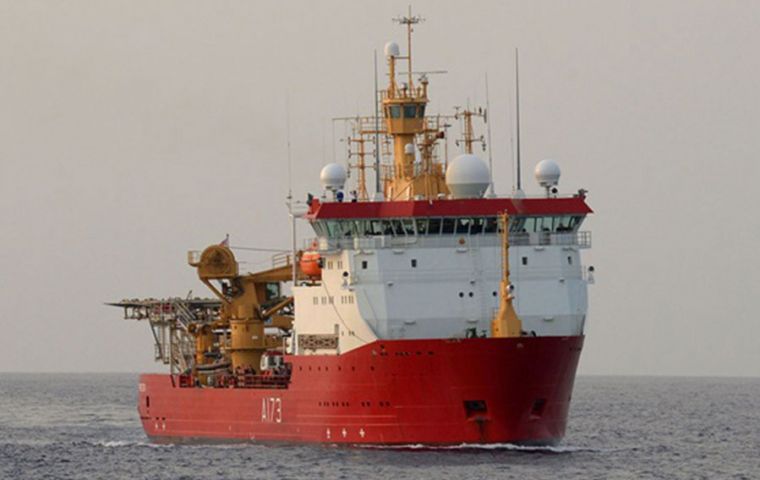 The United Kingdom Ice Patrol HMS Protector is expected this week in Buenos Aires on her return trip from the Antarctica season. The visit is seen as evidence of the renewed and improved UK/Argentina bilateral relations, both politically and in defense issues.
This is particularly true since HMS Protector played an outstanding role in the search of the Argentine submarine ARA San Juan lost last November in the South Atlantic, and opens the way for closer collaboration in defense matters between the two countries.
When Argentina requested international support in the search for ARA San Juan, HMS Protector at the time involved in scientific research and logistics for the British Antarctic Survey was dispatched and joined the multi-nation effort, taking advantage of its state of the art technology for underwater surveying. This capability was employed to follow what was believed to have been the course of the submersible once all contact had been lost in mid November, apparently following a fire on board.
The Ice patrol spent almost a month involved in the search and was also reinforced with special equipment flown into Argentina, Comodoro Rivadavia with a KC-2 Voyager from the Royal Air Force. A Royal Navy officer also worked next to an American officer at the Argentine Nayv's base of Puerto Belgrano which was coordinating the whole effort that numbered over fourteen countries including the US and Russia with the latest search equipments.
HMS Protector's officers and crew are expected to be honored in a special ceremony by the Argentine Navy for their collaboration in the search of the lost ARA San Juan.