China and South Korea seek trade agreements with Mercosur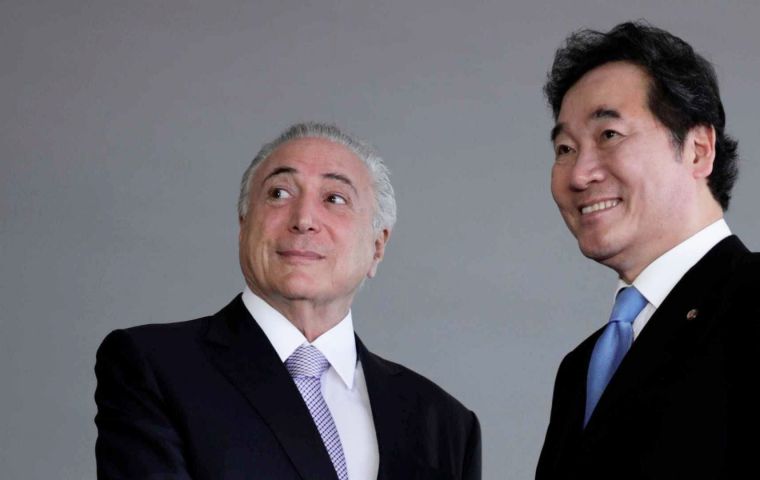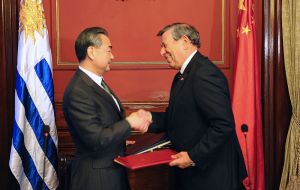 China and South Korea are seeking to establish free trade agreements with Mercosur in a strategic response to Washington's increasingly protectionist stance. The East Asian initiatives have resonated well in a region where Washington is keeping its distance. U.S. President Donald Trump has not visited a single Latin American country since taking office in January 2017, and chose not to attend the Summit of the Americas, which recently concluded in Peru.
South Korean Prime Minister Lee Nak-yon in March agreed with Brazilian President Michel Temer to start formal negotiations for a free trade deal between South Korea and the South American bloc by June. Mercosur also includes Argentina, Uruguay and Paraguay. The pact would reportedly be designed to increase South Korean exports of consumer electronics and auto-parts and boost Mercosur's shipments of corn, soybeans and other grains.
Seoul was forced to make significant concessions while renegotiating a six-year-old bilateral trade pact with the U.S. in late March. The Trump administration's protectionist stance has left the country needing to increase trade with other countries.
With 260 million consumers, Mercosur is a potentially lucrative market for the country's exporters. Moreover, importing more grain from South America would give Seoul leverage in its negotiations with Washington as the U.S. exports considerable amounts of agricultural produce. The South Korean government is acting quickly to enhance trade ties in the region as a whole. In February it signed free trade agreements with five Central American countries including Panama and Costa Rica.
China is also keen on Mercosur markets. Earlier this year, Foreign Minister Wang Yi visited Montevideo and pressed the case for a China-Mercosur pact in talks with President Tabare Vazquez. Signing a free-trade agreement with China would give the country "access to a market of 1.3 billion," Wang told the Uruguayan leader.
Trump's protectionist agenda also gives Beijing the chance to expand its diplomatic influence in the region. In January, an official at the Chinese Embassy in Brazil told a local newspaper that China was opening the door as "one person" is closing another.
China already has a significant and growing economic presence in the region. In 2016, it was the destination for over 15% of Mercosur exports, compared with the U.S. share of 11%. China has emerged as the principal trading partner for the South American countries.
Japan has been slow to respond to the changing trade landscape in the Americas. During a visit to Buenos Aires in December, Japanese Trade Minister Hiroshige Seko dampened expectations for a Japan-Mercosur deal by saying that Tokyo would prioritize talks on investment pacts with individual members.
In reference to Tokyo's reluctance to start talks with the bloc, a Japanese diplomat said that it would be "politically difficult" for the country to further increase farm imports having recently signed off on the Comprehensive and Progressive Agreement for Trans-Pacific Partnership -- the offshoot of the original TPP that included the U.S. -- and finalized its bilateral free trade deal with the European Union.
Alarmed by the Japanese government's lukewarm attitude toward a deal with Mercosur, the Wise-men Group on the Japan-Brazil Strategic Economic Partnership, made up of business leaders from the two countries, held a meeting in Brazil in April and agreed to call for an early start of trade negotiations for an economic partnership agreement between the two sides.