St Helena airport shrugs off 'world's most useless' tag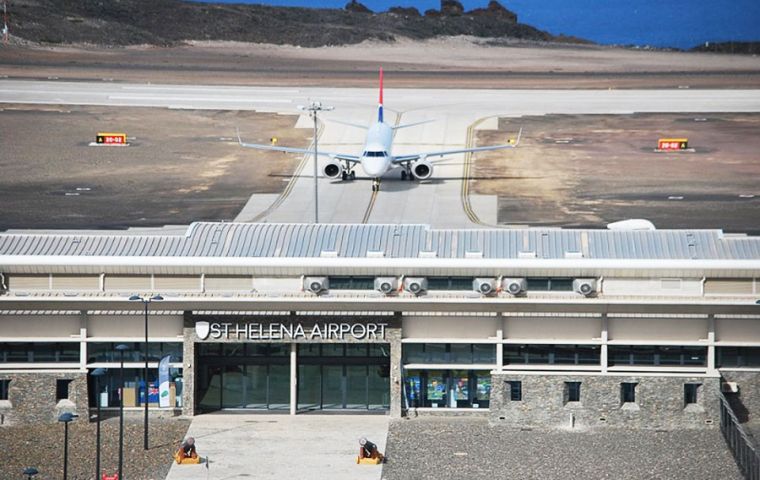 Andreas Spaeth (*) The airport on the remote British Overseas Territory island St Helena, once dismissed as the "world's most useless airport" by British media, is proving to be a reliable asset.
The airport, built for 285m British Pounds ($A521m) in taxpayer's money, opened on the South Atlantic island in June 2016 but it took another year from it to be certified to receive commercial passenger jets.
The originally planned Boeing 737-800 flights by Comair (flying as a British Airways franchise) from Johannesburg didn't materialize after severe wind shear was detected on the first test flight in April, 2016.
In October 2017, after another bidding process was won by private South African regional carrier Airlink, regularly scheduled flights to one of the most far-away places on the globe started with one weekly flight from Johannesburg with a fuel stop in Windhoek/Namibia.
The airline now utilizes its two factory-fresh Embraer E190ARs with increased gross weight and extra thrust.
Official statistics by the St Helena government show that from October 2016 to February 2018 a total of 1,417 passengers arrived on the Airlink flights and 1,386 departed. And that was while the sole former link to the outside world, the mail ship RMS St Helena needing five days one way to reach Cape Town, was finally decommissioned only in February, 2018.
Overall, operations have been unexpectedly smooth and on-time on average, with just one flight having had to be postponed and rescheduled due to weather in the first half year of operations.
Between the airport's opening in June 2016 and March 21, 2018, there were a total of 81 aircraft movements carrying 3,376 passengers, among them 16 medevac flights operated exclusively by Guardian Air out of Lanseria airport near Johannesburg.
"The demand for seats has exceeded expectations," Airlink CEO Rodger Foster told airlineratings.com.
The Saints, as the 4,300 islanders call themselves, desperately hope for more than just one weekly service. There are hints this might happen later in 2018 as South African and Namibian authorities negotiate on issues related to routing and fifth freedom rights.
But these seem tiny issues compared to connecting one of the world's most remote islands to international aviation, a major milestone in St Helena's history, an island famous for being the place in which exiled French emperor Napoleon Bonaparte was forced to live the last years of his life from 1815 to his death in 1821.
The closest land is "neighboring" Ascension Island, occupied solely by a military air base, 1,131km to the northwest, and also a British Overseas Territory. To reach the next continent, Africa, one needs to travel 1,950km to the east to reach the city of Namib in Angola. Turning west it takes 2,900km to get to Salvador de Bahia in Brazil.
The extreme location and the current low passenger market volume, as St Helena tries to build up a tourism industry and hopes for tens of thousands of visitors per year in the future, makes it difficult to make commercial flights economically viable.
"Balancing the economics of these flights is a serious challenge as due to its remoteness and the concomitant logistics issues, fuel at the island is extremely expensive, as are all other aspects of aircraft handling due mainly to the very low passenger traffic volume," says Foster.
One major criticism involves ticket prices, which start at 804 pounds (AUD 1,470) return in economy. These are not discounted for Saints, making the journey by air unaffordable for a populace earning an average annual income of just 8,000 pounds.
"The UK government underwrites the air service," St Helena governor Lisa Honan tells airlineratings.com. "If the average load factor drops below 48 passengers per flight, the UK government will pay for the losses."
Initially only up to 76 of the 98 seats were sold, with two extra ones occupied by Airlink maintenance mechanics monitoring the aircraft en route and on the ground.
Now, thanks to two aircraft with enhanced engines, 87 seats can be sold.
In December 2017 Airlink got its first leased E190AR aircraft, equipped with CF34-10E6 engines instead of the E5 variant. This offers thrust increased by 1,000lbf to a total of 21,000lbf per engine.
"The additional performance offers an advantage in hot and high situations such as prevalent on departure from Windhoek at 5,640ft /1,719m of altitude for St Helena," explains the CEO. "The ambient temperatures at Windhoek during summer can be high, often more than 35°C and the E6 engines will enable an increase in payload by approximately 1,200kgs, which is of material benefit especially in terms of revenue opportunity."
When airlineratings.com took flight SA8131, the one-hour refueling stop in Windhoek is used to fill the two tanks almost to capacity, giving Captain Johann Du Toit 13 tons of fuel.
"That is enough for an endurance of six hours, taking us to St Helena, do several approaches and if need be continue on to Ascension as our alternate airport including extra provisions," Du Toit points out. Though a point of no return (PNR) is calculated over the ocean, it's more academic than of practical importance. It's done to ensure ETOPS doesn't live up to its nickname: "Engines Turn Or Passengers Swim".
About three hours after taking off from Windhoek, the approach into St Helena's main runway 20 starts. Captain Du Toit announces he might have to go around.
This is apparently his reading of wind shear warnings in the cockpit, and enough for some fearful flyers to cover their faces in terror. Then the routine announcement on these flights is made by the flight attendant:
"Approaches to St Helena can experience turbulence, please make sure your seat belts are fastened tightly."
Only minutes before touchdown, the island, a tiny rocky pancake of land becomes visible in the endless Atlantic.
On the two-mile final for runway 20 aircraft are usually hit by swirling updrafts while battling crosswinds. Today, a short moment of light turbulence occurs, followed by a very smooth landing without any hitch.
This is because just after the threshold, having been relocated 280m down the runway and leaving a Landing Distance Available (LDA) of 1,550m, the wind dies down, due to the shelter the King and Queen pinnacles on the left provide.
After a flight time of 3:22 hours from Windhoek, another scheduled flight to this formerly almost inaccessible island has landed safely and on time. Proving again that the label as "the world's most useless airport" is utter nonsense. (AirlineRating.com)
Andrea Spaeth is an international aviation journalist based in Germany serving media in English and German worldwide.