Major wind and flash rains storm hits Buenos Aires: two dead and 100.000 homes with no power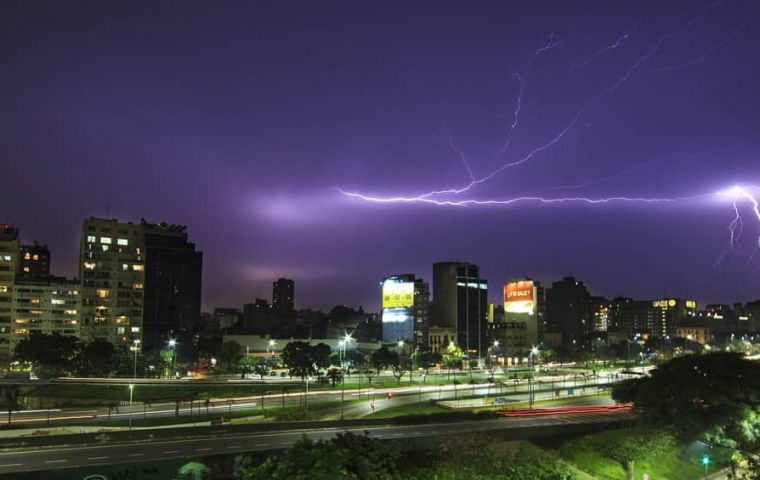 A man and his teenage son died with electrocution during a storm that struck Buenos Aires City and the metropolitan area on Sunday dawn and morning. Winds blowing at over 130 kilometers and massive rainfall, 120 millimeters, caused the collapse of roofs and publicity billboards, trees and lamp posts were knocked down, plus extensive flooding and power cuts that affected thousands of clients. An estimated 2.500 people had to be evacuated and even more had to abandon their homes.
The worst moment apparently was at 03:00 early morning Sunday when lighting illuminated the sky and flash rains of unusual intensity caused much of the flooding. In the county of Tres de Febrero, one of the areas worst hit by the storm a 47-year old father and his 17-year son died after a power line fell on a metal gate. In this county also an eight ton billboard collapsed over four houses forcing residents to abandon their homes.
In Merlo 130 km strong wind gusts forced the collapse of a roof at a parking lot crushing some 18 vehicles, and a dining room catering for 140 children was completely flooded with total losses.
Merlo mayor Gustavo Menendez reported tens of fallen trees, lack of power as electricity lines fell and tens of homes with blown roofs. Facebook and other social media published calls for help with pictures of the damages suffered.
In the county of El Palomar a school lost its roof leaving several class rooms exposed which means most probably on Monday the school will remain closed. Some 400 people had to be evacuated from their homes. The flash rains forced local rivers crossing urban metropolitan Buenos Aires to overflow stranding vehicles and making neighbors protect their homes or abandon them.
Buenos Aires province governor Maria Eugenia Vidal during Sunday visited the flooded areas to assess damage and to help with rescue operations from the local Security and Civil Defense ministry.
In the Argentine capital, the impact of the flash rains with average rainfall of 100mm caused the flooding of several underground lines, which remained interrupted for most of Sunday. Some emergency but limited services were operational. Likewise urban train lines were also delayed because of fallen trees and billboards.
The Buenos Aires city domestic airport Aeroparque had to suspend activities for a few hours because of the rain intensity and new roofing failed with water sipping into the counters section. An electronic music festival in an open stadium was suspended after a lightning hit the stage and forced the evacuation. The national theatres Colón and San Martín in downtown Buenos Aires also suffered flooding. Several soccer matches were suspended as well as a major Nations Cup polo match between Argentina and Colombia.
The city's Civil Defense office said it has received 1.840 emergency calls including 120 direct interventions. Early Sunday some 100.000 homes were left with no power. The number had been lowered to 75.000 by evening.