Argentina/UK: Agreement to enhance Antarctic scientific co-operation
Monday, May 14th 2018 - 20:04 UTC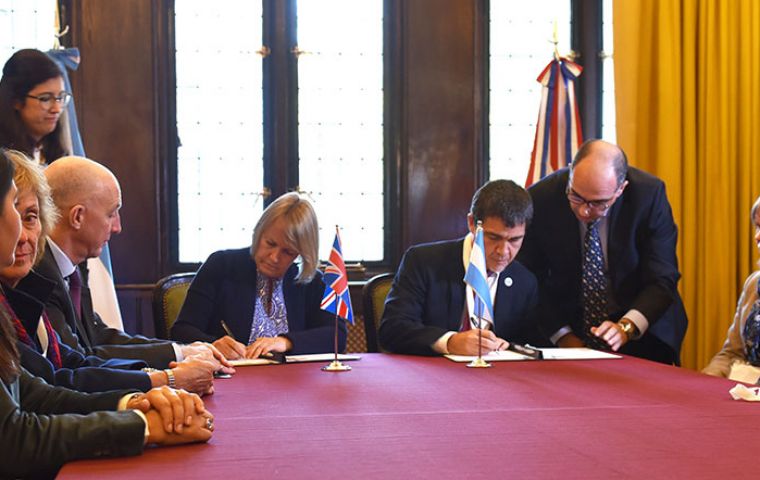 The British Antarctic Survey (BAS) and the Instituto Antártico Argentino (IAA) today signed a memorandum of understanding.The agreement will enable the implementation of joint science and technology research projects as well as enhanced training and exchange of personnel. .
From today, the UK and Argentina have a new instrument that will enable them to increase scientific and technological co-operation in Antarctica. The British Antarctic Survey (BAS) and the Instituto Antártico Argentino (IAA) have signed a memorandum of understanding that aims to provide a formal framework to joint scientific research projects and to training and exchange activities.
The document, signed by BAS Director Jane Francis and IAA Director Rodolfo Sánchez, states that both organisations will "look for opportunities to co-operate, including through seeking to optimise the human and material resources of both institutions, on Antarctic science and technology initiatives of mutual interest".
Scientific co-operation opportunities include joint projects in the fields of Earth sciences and life sciences and on protection and conservation of the Antarctic environment and its dependent and associated ecosystems. Training activities include exchanges of personnel between Antarctic stations, institutions or academic centres of each of the organisations. The agreement will be in force for an initial period of five years.
The signing of the memorandum took place in the framework of the 41st Consultative Meeting of the Antarctic Treaty, which this year is being held at Palacio San Martín in the city of Buenos Aires. The ceremony was attended by the British Ambassador to Argentina, Mark Kent, and MFA authorities.
The Director of the British Antarctic Survey, Jane Francis, said:
"This agreement is very much in the spirit of the Antarctic Treaty. By working together, scientists from UK and Argentina can collect and interpret important scientific data that shapes policy, protects the environment and ultimately improves people's lives. I look forward to new and exciting research collaborations with our colleagues from Argentina."
The BAS is an institute of the UK's Natural Environment Research Council, which is part of UK Research and Innovation. It is responsible for delivering interdisciplinary research in the Polar Regions to improve our knowledge of the Earth and our impact on the planet. Its staff is based in Cambridge, Antarctica and the Arctic. It operates a total of six stations, two ice-strengthened research ships and a specially adapted vehicle and aircraft fleet.