Boris Johnson expected in Argentina; homage to Falklands/Malvinas conflict fallen in the agenda?
Wednesday, May 16th 2018 - 08:22 UTC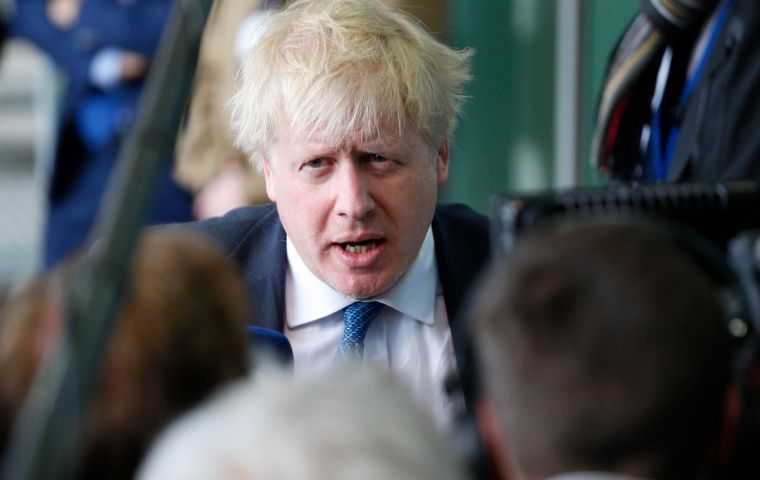 Foreign Secretary Boris Johnson is expected next week in Argentina for a G20 ministerial meeting and, according to Buenos Aires media, normally well informed, he is scheduled to attend a homage to the fallen in the South Atlantic conflict. This would take place in the framework of the new constructive positive turn for Argentine/UK bilateral relations, which includes cooperation in several fields.
The G20 foreign ministers meeting will take place at the Palacio San Martin, May 20/21, since Argentina this year presides the global group, and at the end of the year will be hosting the G20 summit, when world leaders will convene in Argentina.
According to media versions both in La Nacion and Clarin, although the ceremony to honor Falklands/Malvinas war fallen is yet to be confirmed, Johnson's agenda remains open and the possibility of such an event likewise. It would be the first time a foreign secretary attends such a homage in Argentine soil.
Boris Johnson described as a polemist and strong advocate of Brexit, will be arriving in Buenos Aires to a new atmosphere after the signing of the September 2016 UK/Argentina joint communiqué which has seen close cooperation between the two countries in several fields, and in more concrete actions referred to the sensitive Falkland Islands conflict and its consequences.
In effect this year, just a few weeks ago, concluded the identification process of Argentine combatant remains buried in the Falklands, at the Argentine military cemetery at Darwin, a humanitarian mission accomplished by DNA and forensic experts under the guidance of the International Red Cross. This was crowned with a trip to the Falklands of the next of kin to honor and pray next to their beloved, who now have a plaque and a cross with the full name at their graves.
The new bilateral understanding attitude also includes a second flight to the Falklands, increasing connectivity, which is currently in process and was presented to neighboring countries by UK and Argentine ambassadors. Likewise this week an Antarctica cooperation memorandum of understanding was signed by the Argentine Antarctic Institute and the British Antarctica Survey, and a first attempt to refloat the South West Atlantic fisheries scientific information exchange, with conservation purposes, between Argentina and the Falklands as part of a UK delegation, was discussed in Buenos Aires.