Argentina delists Malvinas petitioner Betts, and his shady turncoat past begins to surface
Friday, June 1st 2018 - 08:55 UTC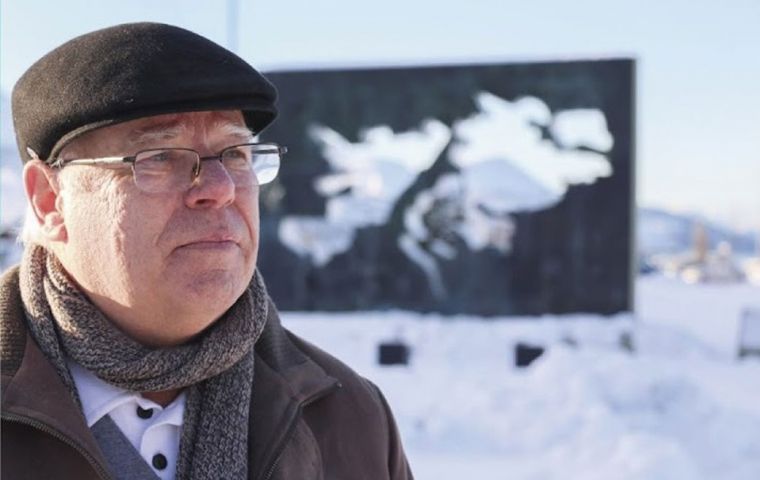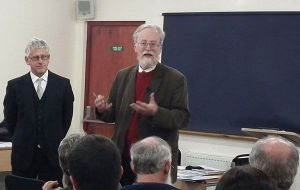 Alejandro Jacobo Betts, Argentine citizen, born as Alexander Jacob Betts in the Falkland Islands, where he lived with a family until the end of the 1982 conflict, has been delisted from the Argentine delegation to this year's United Nations Decolonization Committee or C24 meeting scheduled for this month in New York.
According to Buenos Aires media reports, Betts, once considered a "hero", has been attending the UN meeting in New York for most of the last 35 years as a Malvinas petitioner and part of the Argentine delegation, pressing for Argentine sovereignty over the Islands. Allegedly he was not included on this occasion since he is considered "too aggressive" for the British delegation and Falklands petitioners to the UN C24 meeting.
In interviews with Argentine media Betts considers himself an expert in international law and history, and has not only attended decolonization meetings in New York but also similar forums in Anguilla, Nicaragua, Fiji, Santa Lucia among other places where "there is a clear support for Argentina's position on the Malvinas dispute".
A controversial figure even in Argentina, where he tried unsuccessfully to be elected as member of the Mercosur parliament, he has repeatedly stated that "with patience we will knock out obstacles, reverting a temporal situation of illegitimate occupation by a colonial power, until we finally reach the goal of recovering the Malvinas Islands for our country".
Betts has argued that the Falklands' self determination argument from the UK is a decoy used by the British and Islanders to elude complying what the international community is claiming with over 40 resolutions, that have overwhelming support in the UN General Assembly and another 120 from different organizations and international forums, not only at Executive level, but also parliamentary".
"UK has never been recognized with undisputed sovereignty over the Islands territory, and this is so because the sovereignty dispute continues nowadays as it did in the 19th and 20th centuries, which means it is a mere administrative power of the Islands with no legal document or rights over the Malvinas".
A semi official biography of Betts states he is an Argentine citizen, born in the Malvinas, (1947). He has worked for the Argentine Air Force as an air controller and is a keen reader of history. He currently lives in Cordoba and is a technical advisor to the Malvinas Question Observatory Council from the province of Tierra del Fuego, Antarctica and South Atlantic Islands, and as such has been involved as a petitioner. He also collects a pension as a Malvinas war civilian veteran.
But with time Betts has changed from controversial to shady character. He has refused to be interviewed by the independent media in Buenos Aires and the Falklands History Group says that Alexander Jacob Betts was never exposed to any danger whatsoever from other Falkland Islanders or Britain's Armed Forces during the 1982 conflict.
The Falklands History Group maintains that "Betts, despite what he says, was never in any danger from Falkland Islanders or the British in 1982, because among other things no one knew that he had changed sides during the Argentine occupation of the Islands".
"He never had to dodge bullets or shell splinters from the British bombardment of Port Stanley; that was not the case", the History Group says.
It's true that "some Islanders knew that Betts had abandoned his pregnant wife and baby for an Argentine girl-friend then working in the Islands. But for everyone this was just an extra-marital affair that had ended in a family break-up".
However, "nobody in the Islands knew that Betts was so infatuated with his Argentine girl-friend that this had led him to change sides, given his past as a hard-line critic of the Argentine position over the Falklands. And, as for his "well-known" opinions on the subject (in favor of Argentina), nobody had the remotest idea about these. He finally abandoned the Islands in 1982 in order to stay with the Argentine girl-friend he was so in love with.
Similarly, the statement by Betts that his detailed studies of Falklands history, over between two and four years, had led him to conclude that he must support Argentina's claim "is nothing more than his clever cover story, thought up later, to justify his actions".
"Betts never studied history while he was in the Falklands. But these (unproven) claims of his have allowed him to portray himself in Argentina as a scholar and high-principled Argentine patriot, when the reality is that he is nothing more than a tool of the Argentine government and its international propaganda"
The Falklands History Group statement ends by saying that Betts got his pension as a "Veteran of the Malvinas" and the benefits that come with this, not because of anything he did during the Argentine occupation of the Falklands, but "as a reward for going as a petitioner to the United Nations where he was required to repeat the propaganda of the Argentine Government".
From London, British professor Peter Willetts accused the now Argentine citizen, of lying and states that he has a letter written by Betts to the local press in 1978 in which Betts criticizes the British Government for being soft on Argentina.
More recently the Daily Mail published statements from the woman who was his second wife. Rosa Betts and her daughter Magaly Betts accused him of having left the Islands not for political reasons, but to "follow an Argentine lover". Magaly accused him of abandoning her mother when she was pregnant by him, and of not wanting anything more to do with them.