Scotland withdraws consent to any further Brexit legislation until "devolution system is fixed"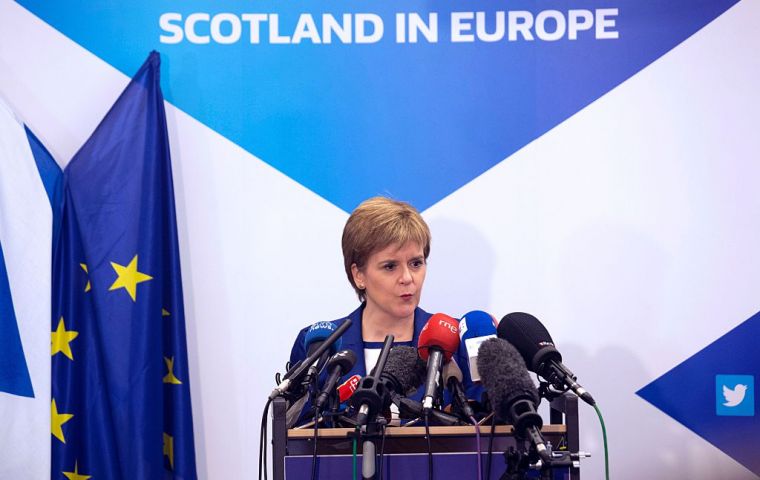 Holyrood will not give consent to any further Brexit legislation until the "broken" devolution system is fixed, Scotland's Brexit Minister has said. Michael Russell added the Scottish government no longer trusted UK ministers after they pushed through the Brexit bill last week. He was speaking as Nicola Sturgeon held talks in Guernsey with UK Cabinet Minister David Lidington.
Both said they wanted to rebuild their relationship and move forward.
Relations between the Scottish and UK governments are said to be at their lowest ever level after the Commons last week spent less than 20 minutes debating the EU Withdrawal Bill's impact on devolution, despite the Scottish Parliament voting to withhold consent.
Ms Sturgeon has accused the UK government of "ripping up" the devolution settlement. The first minister also said she was "proud" of SNP MPs who walked out of Prime Minister's Questions in protest over the UK government's handling of the bill.
The walkout was derided by opponents as a "pre-arranged stunt" aimed only at furthering the cause of independence.
Senior SNP and Scottish government figures have said the protest was not a one-off, and it would not be "business as usual" for devolution.
Speaking to the BBC's Good Morning Scotland programme, Mr Russell said he "couldn't conceive of circumstances" where MSPs would vote to give approval for further UK legislation related to leaving the EU, such as trade, agriculture and fisheries.
He added: "We are absolutely clear that the way that devolution operates and the structures of devolution have failed, and they failed because the UK government is refusing to operate them.
"For example, on the Sewel Convention, we need to have the interpretation of that written down in statute and made legally binding, because what we've presently got is a situation where the UK government makes the rules and then breaks them themselves, and there are no sanctions."
He said that, while there was "practical work" to do to prepare for Brexit, "it is very difficult to do that work because, frankly, we don't trust the UK government with it".
Ms Sturgeon and Mr Lidington held talks at a British-Irish Council meeting in Guernsey, which was also attended by Irish Taoiseach Leo Varadkar, Welsh First Minister Carwyn Jones and representatives from Guernsey, Jersey and the Isle of Man.
The Welsh government dropped its opposition to the Brexit bill after accepting changes made by the UK government.
But Mr Jones told BBC Scotland that he backed the Scottish government over the consent row, adding: "It is fundamental to the operation of devolution that there should be consent."
In a joint media conference, Ms Sturgeon acknowledged that the EU Withdrawal Bill has eroded trust between the Scottish and UK governments, and insisted she was "very keen to see how we can rebuild it and re-establish it".
But she said the relationship could only be rebuilt through "the principle of consent and respect for the conventions that in Scotland's case have underpinned the devolution settlement for 20 years".