Macri admits mistakes and calls for support from governors, unions and business leaders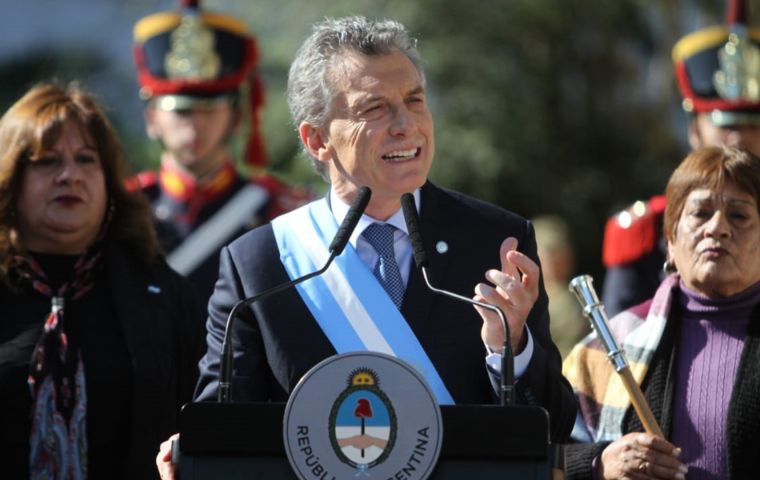 President Mauricio Macri, First Lady Juliana Awada and members of his cabinet attended on Monday, 9 July, the Argentine Independence Day celebrations in the Tucuman Historic House, where 202 years ago the emerging nation cut all ties as a Spanish colony.
In his speech to the nation, Macri said Argentina was "in the midst of a storm", and linked it to external, market and his own administration's mistakes, and called on business and union leaders as well as provincial governors to provide common sense to overcome the situation.
After acknowledging performance mistakes, Macri underlined that "repairing the damages of a storm can't be the motive for a government", because "we are in the process of building a different Argentina"
"Argentina has left behind the idea, the belief of a messiah which will come to save us", said Macri adding "we can't stand half way in the road, we must continue to share together this Argentina which will deliver us a better future".
"As president I have always tried to chose the best instruments to advance. I know we face obstacles and when we commit mistakes we correct them, but we are certain that we are here to ensure that we have things done". He added that Argentines are beginning to work shoulder to shoulder, and this is understood by the world, "and these efforts are beginning to render results, and soon we will see results growing strongly".
Finally Macri called on business leaders saying that the world has shown confidence in Argentina and have given us their support, "it's time for our business community and business people to show that same support".
The speech from the historic house in the northern province of Tucuman was followed by a small parade of military personnel and mostly different civilian groups, including schools. Macri was not scheduled to attend the parade but finally made it. In effect security was tight, 2.500 police personnel was sent to Tucuman fearing disturbances or manifestations against the president given the current political climate in Argentina, but apparently all went smoothly.
However Macri did not attend the Solemn Tedeum at the local cathedral, where he was represented by vice-president Gabriela Michetti, who allegedly has a good relation with the Argentine catholic church and with Pope Francis.
Since opening the way for the national debate on decriminalization of abortion, which was passed by the Lower House, and apparently has sufficient votes in the Senate, Macri has strained relations with the Church. And in effect during the homily at the cathedral, the abortion initiative was repeatedly condemned by the cardinal.
Meanwhile in Buenos Aires city, opposition groups, unions, students took to the streets to protest the current economic policies of the Macri administration and for having accepted the IMF austerity terms included in the US$ 50bn standby loan granted to Argentina.