Argentine Senate unanimously approves raids on properties from ex president Cristina Fernandez
Thursday, August 23rd 2018 - 09:13 UTC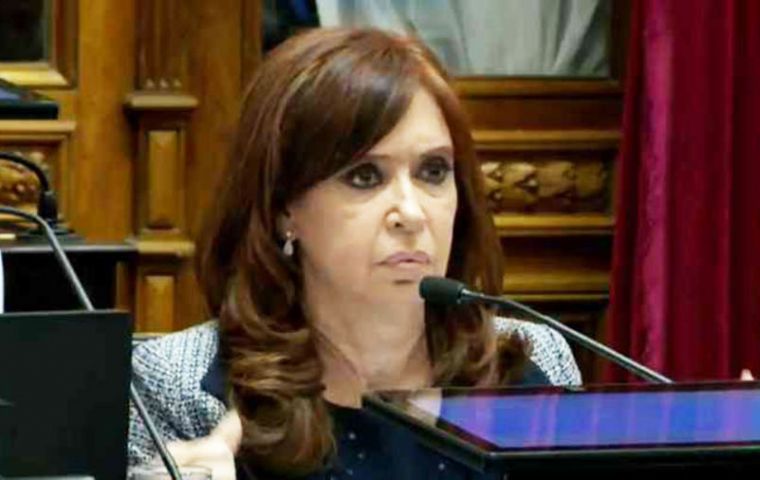 Argentina's Senators have approved a judge's request for authorities to carry out raids on properties owned by former president Cristina Fernandez de Kirchner, as part of a case investigating widespread corruption. Cristina Fernandez is currently a senator and was one of the 67 lawmakers who voted unanimously in favor of the motion.
The former leader has denied any wrongdoing and had already agreed to the raids with some conditions. She has been accused of being responsible for a corruption scheme involving public works contracts that has ensnared many of former officials and business elite.
The case has dominated headlines in Argentina since it broke out this month following an investigation by the newspaper La Nacion into alleged corruption over more than a decade during the governments of Kirchner and her predecessor and late husband, Nestor Kirchner.
La Nacion says the driver of one of the accused kept notebooks with detailed information on his deliveries of millions of dollars in bags of cash paid to former officials in exchange for the granting of public contracts from 2005 to 2015. Kirchner's private address, government house and the presidential residence were allegedly mentioned.
So far, 15 people have been arrested in the case. They include business leaders from construction companies and former officials who served in her 2007-2015 administration.
Federal judge Claudio Bonadio had requested raids, including homes in southern Santa Cruz province and an apartment in Argentina's capital Buenos Aires. It was unclear when the raids would take place. This was the third time the issue was tabled, since in the previous two there were not enough votes, which helped trigger the massive demonstrations.
In effect the case has caused outrage in Argentina, prompting tens of thousands to stage a protest on Tuesday evening in Buenos Aires and other main cities demanding the removal of her immunity from prosecution as a senator.
On seeing how the scenario in the Senate and the streets were evolving, the former president sent a letter to her peers approving the raids, but suggested some conditions: no photos or television cameras; her defense lawyer and a Senator, named by her would be present during the searches, and finally that Judge Claudio Bonadio's team does not tear walls, floors or ceilings
Cristina Fernandez de Kirchner faces several other court actions in separate cases involving alleged money laundering, possible illegal enrichment and fraud.